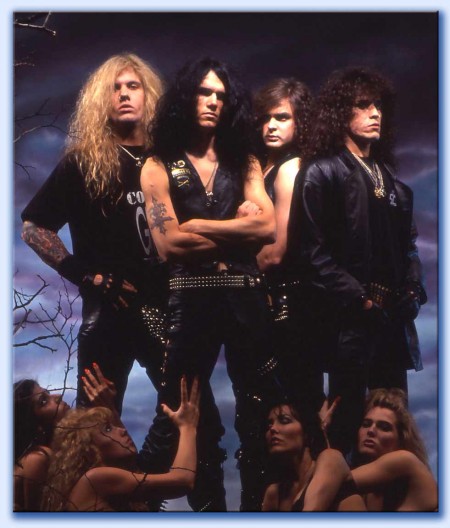 Sirius XM Bloody Roots Honors Morbid Angel's Covenant After 20 Years
Week of November 16, 2013
Sat 11/16, 6PM ET
Sun 11/17, 2PM ET
Tues 11/19, 3PM ET
Thurs 11/21, 6PM ET
As our weekly campaign to chronicle the history of heavy metal continues, host Ian Christe ("Sound of the Beast"/Bazillion Points Books) examines the twenty-year legacy of Morbid Angel's breakthrough Covenant album, the pioneering first-ever major label death metal record. Along with similarly extreme 1993 major label music by Napalm Death and Carcass, this week's show captures alternate takes and cover versions by Divine Rapture, Throneaeon, Behemoth, Obscura, and more! The stage was set for world domination, but was the world ready for death metal in 1993? Know your Roots!
PLAYLIST:
NAPALM DEATH "Hung" from Fear, Emptiness, Despair
CARCASS – "Blind Bleeding The Blind" from Heartwork
MORBID ANGEL – "Rapture" from Entangled In Chaos
MORBID ANGEL – "Pain Divine" from Covenant
DIVINE RAPTURE – "World of Shit (The Promised Land)" from Tyrants of the Abyss Tribute
MORBID ANGEL – "Vengeance Is Mine" from Covenant
THRONEAEON – "The Lions Den" from Tyrants of the Abyss Tribute
VENGEFUL – "Blood on my Hands" from Demo
MORBID ANGEL – "Angel of Disease" from Abominations of Desolation
LAIBACH Feat. MORBID ANGEL – "Sworn to the Black" from The Remixes
OBSCURA – "God of Emptiness" from Retribution
BEHEMOTH – "Day Of Suffering" from Antichrist Phenomenon
Bloody Roots is Sound of the Beast author (and Bazillion Points publisher) Ian Christe's heavy metal history show on Sirius XM Liquid Metal channel 40. Since June 2004, each weekly show has examined another subgenre, band, movement, country, or theme in metal, punk, and heavy rock. The show is available on-demand online from SiriusXM.com.