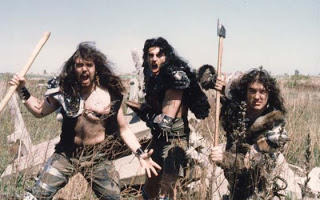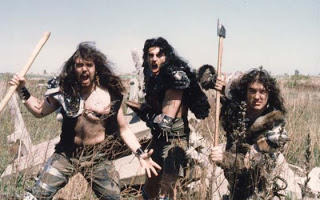 BLOODY ROOTS OF CLASSIC EAST COAST THRASH METAL
week of January 25, 2014
Sat 1/25, 6PM ET
Sun 1/26, 2PM ET
Tues 1/28, 3PM ET
Thurs 1/30, 9PM ET
As documented gloriously in the book Murder in the Front Row: Shots From the Bay Area Thrash Metal Epicenter, the San Francisco thrash metal scene dominates global attention when it comes to fast, violent metal. Yet the East Coast thrash metal scene was crucial, providing record labels, media attention, and crossover-friendly live venues, along with legendary bands featured today including Anthrax, Whiplash, Overkill, Carnivore, Nuclear Assault, Blood Feast, S.O.D., Wargasm, Hades, and many more. Know yer Roots!
PLAYLIST
ANTHRAX -"Metal Thrashing Mad (Live)" from Armed and Dangerous
OVERKILL – "Kill at Command" from Feel The Fire
CARNIVORE – "Predator" from Carnivore
WHIPLASH – "Spit On Your Grave" from Power And Pain
NUCLEAR ASSAULT from "Stranded in Hell" from GAME OVER
S.O.D. – "United Forces" from Speak English Or Die
LETHAL AGGRESSION – "Anarcheology" from From The Cunt Of The Fucking Whore Demo 1985
LUDICHRIST – "Blown Into The Arms Of Christ" from Immaculate Deception
GANG GREEN – "Skate To Hell" from Another Wasted Night
WARGASM – "Wasteland" from Why Play Around
RIPPING CORPSE – "Glorious Depravity" from Dreaming with the Dead
BLOOD FEAST – "Face Fate" from Face Fate
HADES – "The Leaders?" from Resisting Success
TOXIK – "Wasteland" from DEMO 1986
LIEGE LORD – "Fear Itself" from Master Control
SAVAGE THRUST – "The Vice" Eat 'em Raw
OVERKILL – "Blood Money" from Horrorscope
ANTHRAX – "Gung-Ho" from Spreading the Disease
BLESSED DEATH – "Eternal War" from Kill Or Be Killed
Bloody Roots is Sound of the Beast author (and Bazillion Points publisher) Ian Christe's heavy metal history show on Sirius XM Liquid Metal channel 40. Since June 2004, each weekly show has examined another subgenre, band, movement, country, or theme in metal, punk, and heavy rock. The show is available on-demand online from SiriusXM.com.