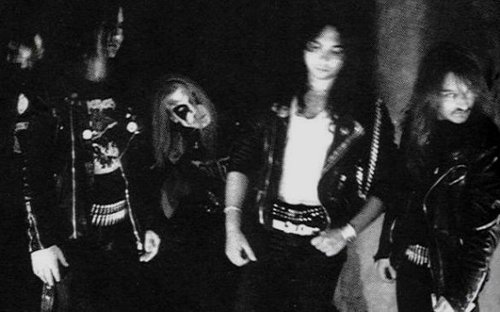 BLOODY ROOTS OF CLASSIC NORWEGIAN BLACK METAL
Week of February 15, 2014
Sat 2/15, 6PM ET
Sun 2/16, 2PM ET
Tues 2/18, 3PM ET
Thurs 2/20, 9PM ET
Host Ian Christe ("Sound of the Beast", Bazillion Points Books) celebrates Black Metal History Month with a herd of wild early black metal releases from Norway, some of them celebrating 20-year anniversaries this month. Scorching assaults by Mayhem, Darkthrone, Emperor, Thorns, Burzum, Satyricon, Immortal, and more. Know your Roots!
For a complete 744-page inside history of black metal in Norway, pick up METALION: The Slayer Mag Diaries.
PLAYLIST:
THORNS – "Interface To God" from THORNS
MAYHEM – "Funeral Fog" from LIFE ETERNAL
DARKTHRONE – "Transilvanian Hunger" from TRANSILVANIAN HUNGER
BURZUM – "Jesu Død" from FILOSOFEM
SATYRICON – "Forhekset" from NEMESIS DIVINA
EMPEROR – "Cosmic Keys To My Creations & Times" from IN THE NIGHTSIDE ECLIPSE
ULVER – "I Troldskog Faren Vild" from BERGTATT
IMMORTAL – "Throned By Blackstorms" from BATTLES IN THE NORTH
ENSLAVED – "Slaget I Skogen Bortenfor" from EMPEROR SPLIT
Bloody Roots is Sound of the Beast author (and Bazillion Points publisher) Ian Christe's heavy metal history show on Sirius XM Liquid Metal channel 40. Since June 2004, each weekly show has examined another subgenre, band, movement, country, or theme in metal, punk, and heavy rock. The show is available on-demand online from SiriusXM.com.