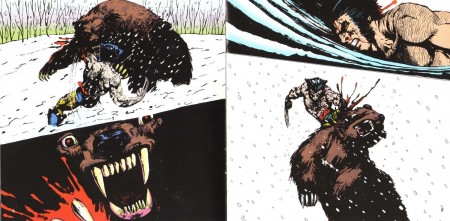 BLOODY ROOTS OF COMIC BOOK-INSPIRED METAL
Week of February 22, 2014
Sat 2/22, 6PM ET
Sun 2/23, 2PM ET
Tues 2/25, 3PM ET
Thurs 2/27, 9PM ET
Heavy metal is often considered the comic book of the music world by ill-informed clods, reveling in common themes like violent vengeance and grim justice. In fact, metal and comics cross paths only rarely but with legendary results, and on this week's heavy metal history lesson host Ian Christe ("Sound of the Beast"/Bazillion Points Books) clobbers a handful of classic songs about Iron Man, Thor, Judge Dredd, Spiderman, Ghost Rider, Conan, and others by heavy metal heroes Manowar, Bloodstar, Voivod, Entombed, Unseen Terror, Ramones, Celtic Frost and more! Know your roots, nuf sed!
To delve deeper into the connections of comic book movies and heavy metal, check out HEAVY METAL MOVIES, by Mike McPadden by clicking HERE.
PLAYLIST:
MEGADETH – "Killing Is My Business…" from KILLING IS MY BUSINESS
CARNIVORE – Legion of Doom" from CARNIVORE
CELTIC FROST – "The Usurper" from TO MEGA THERION
MANOWAR – "Thor" from SIGN OF THE HAMMER
ENTOMBED – "Wolverine Blues" from WOLVERINE BLUES
ANTHRAX – "I am the Law" from THE GREATER OF TWO EVILS
VOIVOD – "Batman" from DIMENSION HATROSS
RAMONES – "Spiderman" from SPIDERMAN
BLOODSTAR – "Ghost Rider" from GHOST RIDERS TRIBUTE TO SUICIDE
JUCIFER – "Superman" from SUPERMAN
RAW SEWAGE – "Swamp Thing" from SORCORERS OF SHRED
CLOVEN HOOF – "Silver Surfer" from A SULTAN'S RANSOM
UNSEEN TERROR – "Garfield Strikes Again" from HUMAN ERROR
BLACK SABBATH – "Iron Man" from PARIS 1970
Bloody Roots is Sound of the Beast author (and Bazillion Points publisher) Ian Christe's heavy metal history show on Sirius XM Liquid Metal channel 40. Since June 2004, each weekly show has examined another subgenre, band, movement, country, or theme in metal, punk, and heavy rock. The show is available on-demand online from SiriusXM.com.