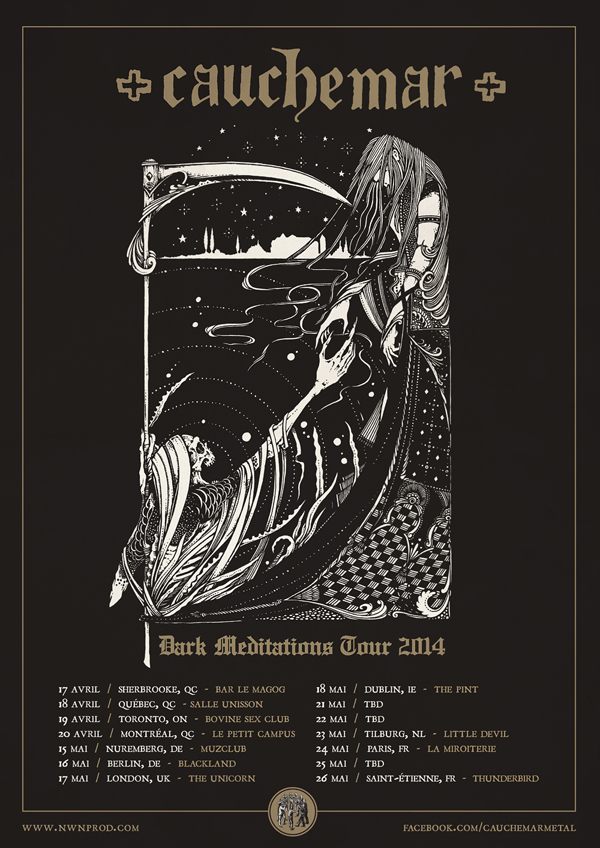 HELLBENT FOR COOKING author Annick Giroux's band Cauchemar is going on tour. In April and May, the Montreal-based doom metal outfit will spread their gloomy metal across Canada and Europe. Play gigs by night, feast on local cuisine—that is the program! The Dark Mediations tour kicks off in Sherbrooke, Quebec, on April 17, and climaxes in France on May 26. A few dates remain open; for booking information, the band can be reached at voyagetohell@gmail.com.
Cauchemar released their debut full length album, Tenebraio on Nuclear War Now! in June 2013.
CANADA:
April 17th: Sherbrooke, Le Magog w/Sights of War
April 18th: Quebec, L'Unisson w/Sacrementor, F.T.M.E., Truckin' Outlaws
April 19th: Toronto, Bovine Sex Club w/Axxion and High Spirits
April 20th: Montréal, Petit Campus w/High Spirits, Kadavar, Sons of Huns
EUROPE:
May 15th: Nürnberg, MUZclub
May 16th: Berlin, Black Dog
May 17th: London, The Unicorn w/Amulet
May 18th: Dublin, The Pint w/Zom and Rabid Bitch of the North
May 21th: TBD
May 22nd: TBD
May 23rd: Tilburg, Little Devil w/Akelei
May 24th: Paris, La Miroiterie
May 25th: TBD
May 26th: Saint Étienne, Thunderbird Lounge w/Elvenstorm
HELLBENT FOR COOKING: The Heavy Metal Cookbook ships today with a free set of full-color Morbid Chef drink coasters. Get it at HELLBENTFORCOOKING.com !