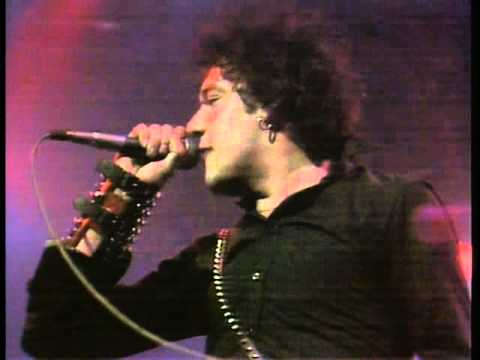 BLOODY ROOTS OF FIRST SINGERS
Week of March 8, 2014
Sat 3/8, 6PM ET
Sun 3/9, 2PM ET
Tues 3/11, 3PM ET
Thurs 3/13, 9PM ET
Over the course of a metal band's long crusade, the lineup often changes. Singers especially can make a crucial difference in sound, marking different eras or sometimes even completely different styles of music. Today host Ian Christe ("Sound of the Beast"/Bazillion Points) salutes singers, some infamous and some lesser-known, whose appearances helped launch the efforts of bands including Anthrax, Faith No More, Pantera, Iron Maiden, Kataklysm, Exodus, Candlemass, Arch Enemy, Cannibal Corpse, and more!

For dozens of photos of Bay Area thrash metal pioneers Exodus and Legacy/Testament, featuring original singers Paul Baloff and Zetro Sousa, check out the acclaimed MURDER IN THE FRONT ROW: Shots From the Bay Area Thrash Metal Epicenter, by Harald Oimoen and Brian Lew, by clicking HERE.
PLAYLIST:
IRON MAIDEN – "Twilight Zone" from KILLERS
ANTHRAX – "Deathrider" from FISTFUL OF METAL
EXODUS – "Exodus" from BONDED BY BLOOD
LEGACY – "Reign Of Terror" from DEMO
PANTERA – "Out for Blood" from PROJECTS IN THE JUNGLE
FAITH NO MORE – "Faster Disco" from INTRODUCE YOURSELF
CANDLEMASS – "Solitude" from EPICUS DOOMICUS METALLICUS
ARCH ENEMY – Bury Me An Angel" from BLACK EARTH
KATAKLYSM – "The Awakener" from TEMPLE OF KNOWLEDGE
DILLINGER ESCAPE PLAN – "4th Grade Dropout" from CALCULATING INFINITY
NAPALM DEATH – "Scum" from SCUM
BLACK FLAG – "No Values" from EVERYTHING WENT BLACK
KILLSWITCH ENGAGE – "Temple From the Within" from KILLSWITCH ENGAGE
CANNIBAL CORPSE – "Split Wide Open" from TOMB OF THE MUTILATED
Bloody Roots is Sound of the Beast author (and Bazillion Points publisher) Ian Christe's heavy metal history show on Sirius XM Liquid Metal channel 40. Since June 2004, each weekly show has examined another subgenre, band, movement, country, or theme in metal, punk, and heavy rock. The show is available on-demand online from SiriusXM.com.