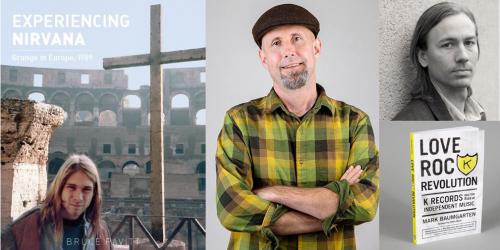 Experiencing Nirvana: Grunge in Europe, 1989, author Bruce Pavitt will appear at Bookpeople of Moscow, on Saturday, March 29. Unless we're missing something, this will be Bruce's book tour debut in the home state of Tad Doyle, one of the stars of his real-life photojournal and diary of eight crucial days on tour in Europe with Nirvana, Tad, and Mudhoney in 1989.
This jam goes down at 7:30 PM at the celebrated Moscow, ID, indie bookstore on 521 South Main Street. Bruce will be joined by Mark Baumgarten, who just wrote a history of K Records. Northwest Public Radio's Sueann Ramella will be moderating. This event is being sponsored by Book People, Deadbeat Records Moscow and Paradise Ridge CDs.
Afterwards, Bruce will be DJing with Daniel Ryan of Deadbeat Records. Ain't no party like an early Spring book party in Moscow, get your mules down there!