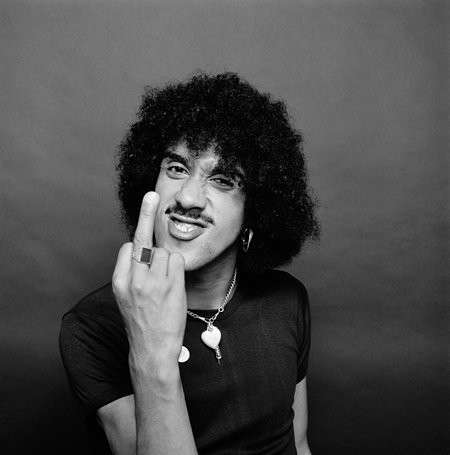 BLOODY ROOTS ST. PATRICK's DAY THIN LIZZY TRIBUTE
Week of March 15, 2014
Sat 3/15, 6PM ET
Sun 3/16, 2PM ET
Tues 3/18, 3PM ET
Thurs 3/20, 9PM ET
In honor of Philip Lynott (1949-1986), his band Thin Lizzy, and all of Ireland, we celebrate the ancient folk hero Saint Patrick this week with a full hour of dual-guitar tributes to the most beloved Irish hard rock saviors. Thin Lizzy covers by Iron Maiden, Mastodon, Raven, Vader, Six Feet Under, Metallica, Assassin, Dublin Death Patrol, and many more. Know your knotted green shamrock roots!
For over 100 traditional international recipes by metal bands, including Scott Gorham of Thin Lizzy and Phil's mom Philomena Lynott, check out the acclaimed HELLBENT FOR COOKING: The Heavy Metal Cookbook, by Annick "The Morbid Chef" Giroux".
PLAYLIST:
Mastodon – "Emerald" from MARCH OF THE FIRE ANTS
Thin Lizzy – "Genocide" from CHINATOWN
Iron Maiden – Massacre" from THE EVIL THAT MEN DO
Paul DiAnno – "Killer on the Loose" from KILLERS ON THE LOOSE AGAIN
Raven – The Rocker" from GLOW
Dublin Death Patrol – "Cold Sweat" from DDP 4 LIFE
Vader – Angel of Death" from BLOOD
Acid Drinkers – "Bad Reputation" from FISHDICK ZWEI
Heathen – "The Holy War" from RECOVERED
Mordred – "Johnny The Fox Meets Jimmy The Weed" from FALLING AWAY
Anthrax – Cowboy Song" from ONLY
Assassin – "Thunder And Lightning" from THE CLUB
Six Feet Under – Jailbreak" from MAXIMUM VIOLENCE
Metallica – "Whiskey In The Jar" from DUBLIN IRELAND 2006

Bloody Roots is Sound of the Beast author (and Bazillion Points publisher) Ian Christe's heavy metal history show on Sirius XM Liquid Metal channel 40. Since June 2004, each weekly show has examined another subgenre, band, movement, country, or theme in metal, punk, and heavy rock. The show is available on-demand online from SiriusXM.com.