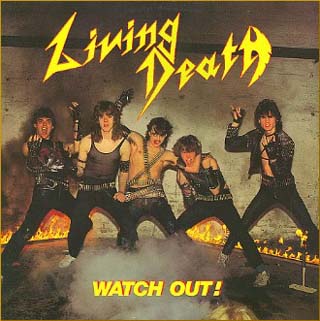 BLOODY ROOTS OF EARLY EUROPEAN SPEED METAL
Week of March 22, 2014
Sat 3/22, 6PM ET
Sun 3/23, 2PM ET
Tues 3/25, 3PM ET
Thurs 3/27, 9PM ET
As metal grew faster in the mid-late 1980s, bands across Europe caught the thrash wave and updated their tempos and energies for the times. Join Ian Christe ("Sound of the Beast"/Bazillion Points) for a tour of early European speed metal bands who blazed forward with raw gusto as metal left the Iron Maiden era and prepared for high-speed battle. Featuring Living Death, Warhead, SxDxIx, Bulldozer, ADX, Oz, and many more! Know your Roots!
For for more on 1980s European speed metal, and how it grew to shape 1990s black metal, check out the masterful METALION: The Slayer Mag Diaries, by Jon "Metalion" Kristiansen, by clicking HERE.
PLAYLIST:
LIVING DEATH (Germany) – "Heavy Metal Hurricane" from Vengeance of Hell
VIOLENT FORCE (Germany) – "Destructed Life" from Malevolent Assault of Tomorrow
WARHEAD (Holland) – "Speedway" from Speedway
ARTILLERY (Denmark) – "Hunger And Greed" from Terror Squad
OZ (Finland/Sweden) – Turn the Cross Upside Down" from Turn the Cross Upside Down
CYCLONE (Belgium) – "Fall Under His Command" from Brutal Destruction
BULLDOZER (Italy) – "The Vision Never Fades" from IX
EVIL BLOOD (Croatia) – "Midnight in the Sodom" from Midnight in Sodom
S.D.I. (Germany) – "Megamosh" from Sign of the Wicked
POLTERGEIST (Switzerland) – "Shooting Star" from Depression
BOMBARDER (ex-Yugoslavia) – Speed Metal Manijak" from BEZ MILOSTI
ADX (France) – "Prisonnier de la Nuit" from Execution
Bloody Roots is Sound of the Beast author (and Bazillion Points publisher) Ian Christe's heavy metal history show on Sirius XM Liquid Metal channel 40. Since June 2004, each weekly show has examined another subgenre, band, movement, country, or theme in metal, punk, and heavy rock. The show is available on-demand online from SiriusXM.com.