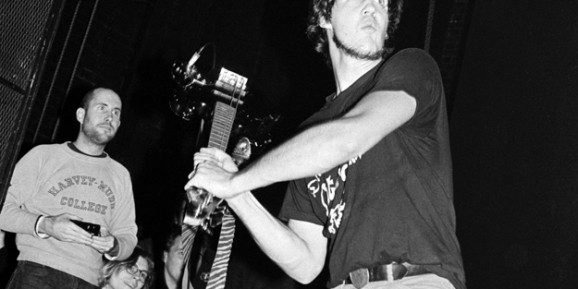 EXPERIENCING NIRVANA: Grunge in Europe, 1989, author Bruce Pavitt joins a top-shelf crew of luminaries for a FREE event this coming Sunday at the Experience Music Project museum in Seattle, WA.
http://www.empmuseum.org/calendar/events/come-as-you-are.aspx
It's been 20 years since the untimely passing of Kurt Cobain—one of the most creative forces in the Northwest's music community. In remembrance of his life, EMP Senior Curator Jacob McMurray will host an in-depth conversation with panelists Charles R. Cross (Cobain biographer and author), Charles Peterson (photographer), Jack Endino (producer and musician), and Bruce Pavitt (co-founder of Sub Pop). Panelists will tell stories that illuminate the enduring legacy of Cobain and Nirvana, interspersed with video and audio clips from the community and those closest to the band.
Bruce Pavitt launched the Sub Pop record label in 1986. By the early 1990s Sub Pop had released recordings by Nirvana, Soundgarden, Mudhoney, Mark Lanegan, Beat Happening, TAD, The Walkabouts, and Steven Jessie Bernstein, to name but a few, thereby initiating global interest in Seattle-area music.
Date and Time
April 6, 2014
2:00pm-3:30pm
Venue
EMP Museum
JBL Theater
325 5th Avenue N
Seattle, WA 98109
Ticket Info
Free. First-come, first-served.
Above photo: Steve Double, from