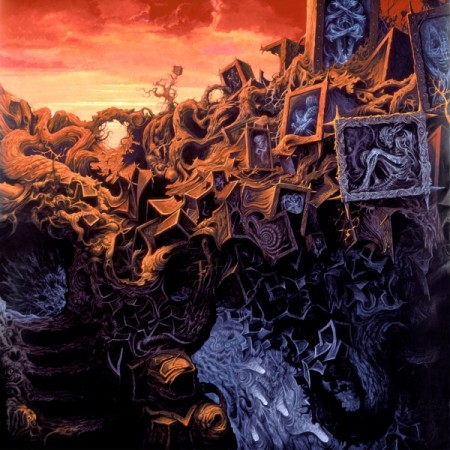 BLOODY ROOTS OF TECHNICAL DEATH METAL
Week of April 5, 2014
Sat. 4/5, 6PM ET
Sun. 4/6, 2PM ET
Tues. 4/8, 3PM ET
Thurs. 4/10, 9PM ET
Somewhere on the bloody trail up from the poison swamp, brutal death metal absorbed a higher intelligence, and technical death metal was spawned. For this week's metal history lesson, Ian Christe ("Sound of the Beast", Bazillion Points) delivers a master class of bizarre overachiever head-cracking bands like Gorguts, Meshuggah, Cynic, Death, Necrophagist, Demilich, Born of Osiris and more! Know your bloody but brainy roots!
For a full 744-page immersion into the roots of death metal, check out METALION: The Slayer Mag Diaries, by Jon Kristiansen.
PLAYLIST:
Cryptopsy – "Slit Your Guts" from NONE SO VILE
Death – "Suicide Machine" from Human
Atheist – "Green" from Elements
Necrophagist – "Fermented Offal Discharge" from Onset of Putrefaction
Demilich – "The Echo (Replacement)" from NESPITHE
Gorguts – "Hideous Infirmity" from THE EROSION OF SANITY
Meshuggah – "Pineal Gland Optics" – from OBZEN
Spawn of Possession – "Lash By Lash" from NOCTAMBULANT
Illogicist – "The Mind Reaper" from THE UNCONSCIOUSNESS OF LIVING
Gorod – "Thirst For Power" from LEADING VISION
Psychofagist – "21st Century Schizoid God" from PSYCHOFAGIST
Cynic – "The Eagle Nature" from FOCUS
Born Of Osiris – "A Higher Place" from A HIGHER PLACE
Bloody Roots is Sound of the Beast author (and Bazillion Points publisher) Ian Christe's heavy metal history show on Sirius XM Liquid Metal channel 40. Since June 2004, each weekly show has examined another subgenre, band, movement, country, or theme. The show is available on-demand online from SiriusXM.com.