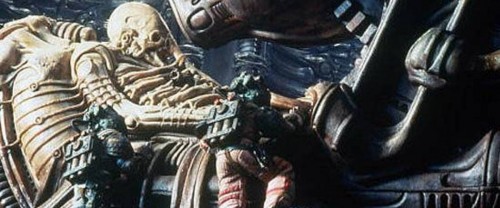 BLOODY ROOTS OF HEAVY METAL IN OUTER SPACE
Week of April 12, 2014
Sat 4/12, 6PM ET
Sun 4/13, 2PM ET
Tues 4/15, 3PM ET
Thurs 4/17, 9PM ET
As space rovers and voyagers test the vastness of our solar system, heavy metal explorers are already light years ahead. Looking to the stars and bringing back visions of cosmic creation, horror, and power, this week's metal history lesson features metal from across the galaxy by Voivod, Satyricon, Assassin, Black Sabbath, Hawkwind, Cathedral, Gojira, Inquisition, and more! In space, no one will hear you scream…
For a full investigation of the heady, otherworldy side of metal, check out MEAN DEVIATION: Four Decades of Progressive Heavy Metal, by Jeff Wagner, featuring cover artwork by Away of Voivod.
PLAYLIST:
VOIVOD – "Forgotten in Space" from Killing Technology
BLACK SABBATH – "Symptom Of The Universe" from Sabotage
HAWKWIND – "Silver Machine" from Damage Case
ANGEL HAIR – "Space Ape" from Pregnant With the Senior Class
CATHEDRAL – "Hypnos 164" from Cosmic Requiem
GAMMA RAY – "Somewhere Out in Space" from Somewhere Out in Space
EMPEROR – "Cosmic Keys To My Creations & Times" from In The Nightside Eclipse
ENSLAVED – "Heir To The Cosmic Seed" from Ruun
SATYRICON – "The Infinity of Time and Space" from Satyricon
ASSASSIN – "Interstellar Experience" from Interstellar Experience
GOJIRA – "The Heaviest Matter of the Universe" from From Mars to Sirius
INQUISITION – "Infinite Interstellar Genocide" from OBSCURE VERSES FOR THE MULTIVERSE

Bloody Roots is Sound of the Beast author (and Bazillion Points publisher) Ian Christe's heavy metal history show on Sirius XM Liquid Metal channel 40. Since June 2004, each weekly show has examined another subgenre, band, movement, country, or theme. The show is available on-demand online from SiriusXM.com.