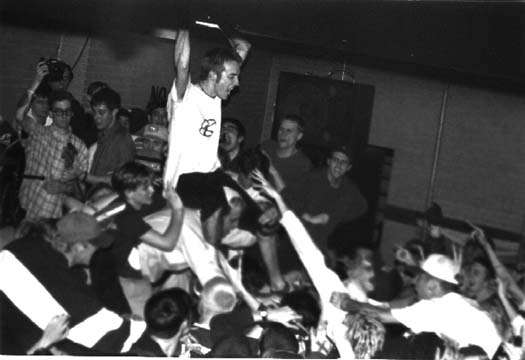 Sirius XM Bloody Roots of '90s Hardcore
Week of April 26, 2014
Sat 4/26, 6PM ET
Sun 4/27, 2PM ET
Tues 4/29, 3PM ET
Thurs 5/1, 9PM ET
This week's heavy metal history lesson takes a hard look at ten years of hardcore, from the basic NYHC breakdowns of 1990, through the muscular vegan-straightedge-justice militants of the mid-decade, leading to the cracked-up and next-level intensity of the scene at the turn of the century. Tracks by Bane, Judge, Madball, Chokehold, Rorschach, Botch, Skitsystem, Converge, Hatebreed, and many more. Don't forget the struggle—don't forget your Roots!

For a white-knuckle hardcore punk education starting at day one, pick up TOUCH + GO: The Complete Hardcore Punk Zine '79-'83, by Tesco Vee and David Stimson, and WE GOT POWER!: Hardcore Punk Scenes from 1980s Southern California, by David Markey and Jordan Schwartz.
PLAYLIST:
SICK OF IT ALL – "We Stand Alone" from WE STAND ALONE EP
INTEGRITY – "Abraxas Annihilation" from HUMANITY IS THE DEVIL
RORSCHACH – "No One Dies Alone" from REMAIN SEDATE
MADBALL – "Set It Off" from SET IT OFF
JUDGE – "The Storm" from THERE WILL BE QUIET
CROWN OF THORNZ – Juggernaut" from TRAIN YARD BLUES
CHOKEHOLD – Underneath" from CONTENT WITH DYING
BANE – "Count Me Out" from HOLDING THIS MOMENT
EARTH CRISIS – "Gomorrah's Season Ends" from GOMORRAHS SEASON ENDS
SHAI HULUD – "Solely Concentrating On The Negative Aspects Of Life" from HEARTS ONCE NOURISHED
BOTCH – "Man The Ramparts" from WE ARE THE ROMANS
SKITSYSTEM – Human Waste" from PROFITHYSTERI
DEMON SYSTEM 13 – "Straight and Drunks" from THRASH AND BURN
CONVERGE – "The Saddest Day" from PETITIONING THE EMPTY SKY
THE DILLINGER ESCAPE PLAN – "Variations On A Cocktail Dress" from CALCULATING INFINITY
HATEBREED – "Driven by Suffering" from SATISFACTION IS THE DEATH OF DESIRE
Bloody Roots is Sound of the Beast author Ian Christe's heavy metal history show on Sirius XM Liquid Metal channel 40. Since June 2004, each weekly show has examined another subgenre, band, movement, country, or theme. The show is available on-demand online from SiriusXM.com.