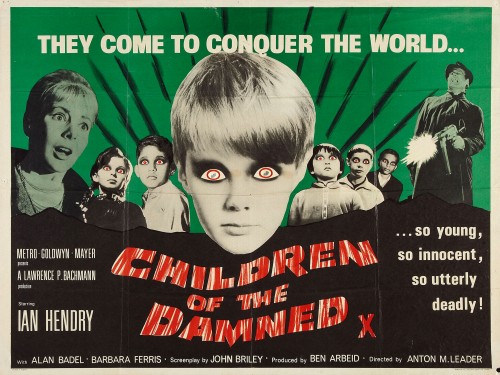 BLOODY ROOTS OF THE METAL CHILDREN
Week of May 10, 2014
Sat 5/10, 6PM ET
Sun 5/11, 2PM ET
Tues 5/13, 3PM ET
Thurs 5/15, 9PM ET
To revel in the chilling madness of the movie CHILDREN OF THE DAMNED, check out HEAVY METAL MOVIES, by Mike McPadden!
Won't somebody please think of the children?? This Mother's Day week, host Ian Christe ("Sound of the Beast"/Bazillion Points Books) drags the metal children kicking and screaming across the hall for a total review of metal songs about children and childhood. The raw innocence and emerging shadows of tiny tots are inspected and protected by Savatage, Iron Maiden, Napalm Death, Dismember, Black Breath, the Oath, Venom, Warlord, Carcass, and many others! Love your mom, know your Roots!
PLAYLIST:
DEICIDE – "They Are The Children Of The Underworld" from ONCE UPON A CROSS
BLACK BREATH – "Children of the Horn" from POWER OF THE RIFF MIXTAPE
NAPALM DEATH – "Suffer The Children" from GRIND MADNESS AT THE BBC
SAVATAGE – "Power Of The Night" from POWER OF THE NIGHT
MISFITS – "Children in Heat" from BOX SET
C.O.C. – "Hungry Child" from ANIMOSITY
CARCASS – "Childs Play"    from SWAN SONG
SEPTIC DEATH – "Child"    from CROSSED OUT TWICE 5″
IRON MAIDEN – "Children Of The Damned" from 1982 LIVE UK
IRON MAIDEN – "Wrathchild" from KILLERS
TRUTH AND JANEY    – "A Child" from ERUPTS!
THE ACCUSED – "Septi-Child" from MORE FUN THAN AN OPEN CASKET FUNERAL
THE OATH – "Night Child" from THE OATH
BLACK SABBATH – "Children of the Sea" from LIVE 1992
VENOM from "Hellchild" from POSSESSED
DISMEMBER – "Children Of The Cross" from WHERE IRONCROSSES GROW
WARLORD – "Child of the Damned" from DELIVER US
Thank you for listening!