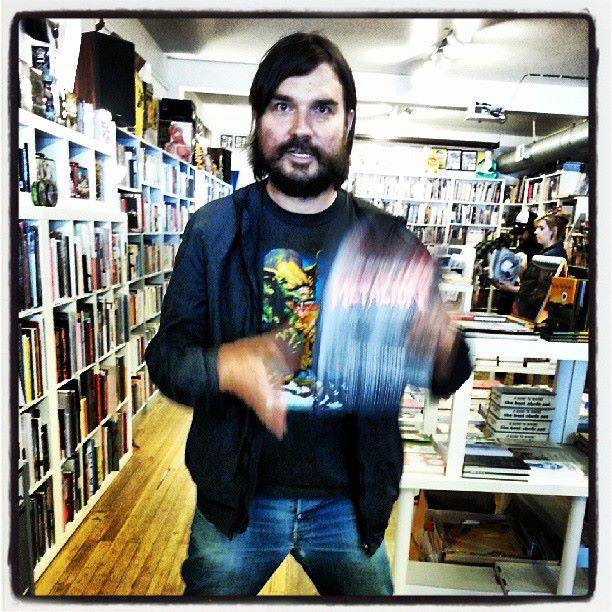 Above: Bazillion Points publisher Ian Christe at Atomic Books (photo by Rachel Whang)
Kicking off Maryland Deathfest weekend, Bazillion Points, America's smallest but heaviest indie publisher, invites rabid readers to Baltimore stronghold Atomic Books (3620 Falls Rd, Baltimore, MD) for a mayhemic author night from 7PM to 9PM featuring:
Ian Christe (Sound of the Beast: The Complete Headbanging History of Heavy Metal) with a magical metal memoir of being stranded on a desert island with a copy of Iron Maiden's Killers
Laina Dawes (What Are You Doing Here?: A Black Woman's Life and Liberation in Heavy Metal) tells tales of confrontation and redemption from her acclaimed debut
Daniel Ekeroth (Swedish Death Metal/Swedish Sensationsfilms) screening trailers from across the sinful past of Swedish cinema, spanning the decades from early black-and-white nudity to 1980s heavy metal violence. Madman Magnus Henriksson assists with Christina Lindberg anecdotes.
A full array of Bazillion Points treasures will be on-sale, plus the usual array of Atomic oddities and essentials. The esteemed store's new bar will be put to the ultimate test! Atomic will also present the bookstore debuts of HEAVY METAL MOVIES: Guitar Barbarians, Mutant Bimbos & Cult Zombies Amok in the 666 Most Ear- and Eye-Ripping Big-Scream Films Ever!, by Mike McPadden, plus the ultra-exclusive SLAYER MAG X red hardcover reprint by Jon "Metalion" Kristiansen, capturing Norway's black metal scene at the heated peak of its 1994 combustion.
RSVP on Facebook here: https://www.facebook.com/events/447195602090818
Then off to Deathfest with you, as Bazillion Points author Tom Gabriel Fischer (Only Death Is Real: An Illustrated History of Hellhammer and Early Celtic Frost 1981–1985) leads his band Triptykon onstage at Rams Head Live downtown.