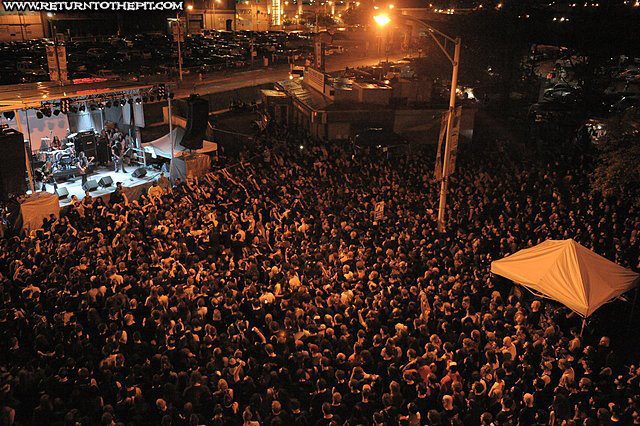 Photo credit: returntothepit.com
Please note: Due to the unexpected passing of frontman Tom Gabriel Fischer's longtime mentor H.R. Giger, TRIPTYKON has taken the highly unusual step of cancelling their MDF appearance and remaining in Switzerland so that Fischer may support the Giger family during their time of duress.
BLOODY ROOTS OF MARYLAND DEATHFEST 2014 PREVIEW
Week of May 17, 2014
Sat 5/17, 6PM ET
Sun 5/18, 2PM ET
Tues 5/20, 3PM ET
Thurs 5/22, 9PM ET
As Baltimore's annual massive underground metal gathering Maryland Deathfest prepares to rise for the 12th year, host Ian Christe ("Sound of the Beast"/Bazillion Points) scours the fest schedule and returns with a super-heavy sampling. Among the debut acts, reunions, rare gigs, and greatly anticipated appearances are dozens of Bloody Roots favorites from past shows, and this week presents a pre-concert refresher on the riveting power of Triptykon, Nocturnus, Coffins, War Master, Dark Angel, Taake, Mgla, and more! Know your Roots, and see you under the sweltering sun Memorial Day weekend!
For the roots of Triptykon, check out ONLY DEATH IS REAL by main man Thomas Gabriel Fischer; and don't miss METALION: The Slayer Mag Diaries, featuring a foreword by At the Gates singer Tomas Lindberg.
PLAYLIST:
MISERY INDEX – "Conjuring the Cull" from THE KILLING GODS
WAR MASTER – "Bastard Horde" from ADVANCE
MGLA – "Further Down the Nest I" from FURTHER DOWN THE NEST EP
AT THE GATES – "Cold" from WACKEN 2008
TAAKE – "Myr" from NOREGS VAAPEN
NOCTURNUS – "Aquatica" from THRESHOLDS
DARK ANGEL – "Merciless Death" from HAMMERSMITH ODEON 1989
PSEUDOGOD – "Azazel" from DEATHWOMB CATECHESIS
UNCLE ACID AND THE DEADBEATS – "Poison Apple" from MIND CONTROL
WINDHAND – "Amaranth" from REFLECTION OF THE NEGATIVE
COFFINS – "The Vacant Pale Vessel" from THE FLESHLAND
TRIPTYKON – "In the Sleep of Death" from MELANA CHASMATA