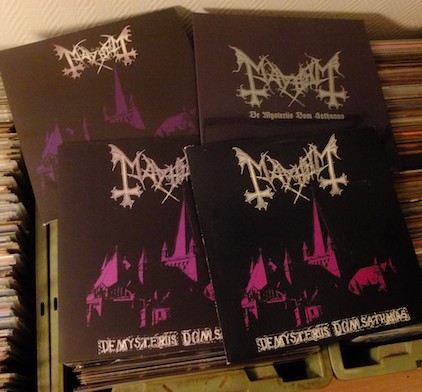 Week of May 24, 2014
Sat 5/24, 6PM ET
Sun 5/25, 2PM ET
Tues 5/27, 3PM ET
Thurs 5/29, 6PM ET
This week's heavy metal history lesson marks 20 years since the 1994 release of one of heavy metal's most controversial and cursed recordings, De Mysteriis Dom Sathanas by Norwegian black metal originators Mayhem. Created under hardship following the suicide of singer Dead, this classic album also surfaced with bass tracks scrubbed after session member Varg Vikernes murdered main man Euronymous. Host Ian Christe (Sound of the Beast, Bazillion Points Books) pieces together the classic album using tributes by Emperor, Gorgoroth, Behemoth, 1349, Immortal, Emperor, and more. Hails to the late Oystein "Euronymous" Aarseth, and know your Roots!
For total immersion in the Norway black metal world of 1992–1994, look to SLAYER MAG X, featuring candid interviews from that time with Mayhem, Burzum, Immortal, Enslaved, Darkthrone, Thorns, and many other key figures.
PLAYLIST:
Mayhem – "Deathcrush" from DEATHCRUSH
Emperor – "Funeral Fog" from SCATTERED ASHES
Behemoth – "Freezing Moon" from CHAOTICA: THE ESSENCE OF THE UNDERWORLD
Gehenna – "Cursed in Eternity" from ORIGINATORS OF THE DARK PAST
Dark Funeral – "Pagan Fears" from ORIGINATORS OF THE DARK PAST
Gorgoroth – "Life Eternal" from ORIGINATORS OF THE DARK PAST
Immortal – "From the Dark Past"    from ORIGINATORS OF THE DARK PAST
1349 – "Buried By Time And Dust" from LIBERATION
Anaal Nathrakh – "De Mysteriis Dom Sathanas" from TOTAL FUCKING NECRO
Mayhem    – "Life Eternal" from LIFE ETERNAL
•
Bloody Roots is Sound of the Beast author Ian Christe's heavy metal history show on Sirius XM Liquid Metal channel 40. Since June 2004, each weekly show has examined another subgenre, band, movement, country, or theme. The show is available on-demand online from SiriusXM.com.