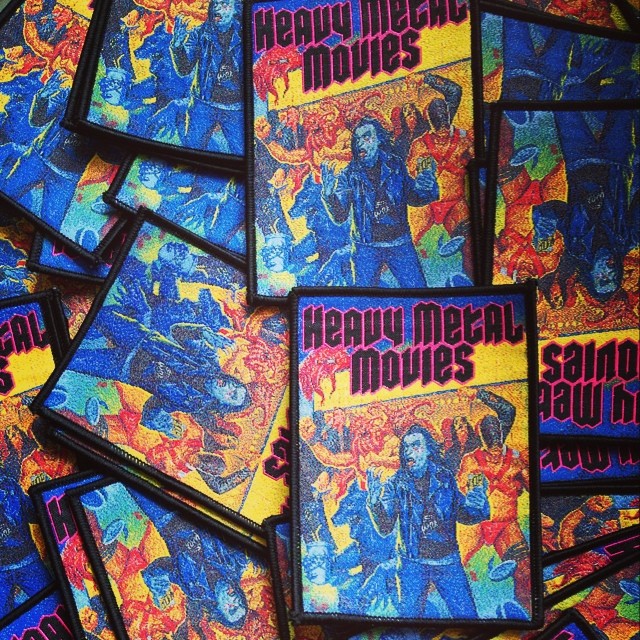 BLOODY ROOTS WELCOMES HEAVY METAL MOVIES AUTHOR MIKE McPADDEN
Week of June 14, 2014
Sat 6/14, 6PM ET
Sun 6/15, 2PM ET
Tues 6/17, 3PM ET
Thurs 6/19, 9PM ET
Since Geezer Butler was inspired to name his band Black Sabbath after seeing movie theater crowds lined up to watch horror movies, the history of heavy metal has been deeply intertwined with horror, shock, and grindhouse cinema. This week, host Ian Christe talks big-screen savagery, machetes, and onscreen rituals with Mike "McBeardo" McPadden, author of HEAVY METAL MOVIES: Guitar Barbarians, Mutant Bimbos, and Cult Zombies Amok in the 666 Most Ear-and Eye-Ripping Big-Scream Films Ever!. Soundtracks and movie-inspired cuts by Black Sabbath, Necrophagia, Cannibal Corpse, Sleep, Blood Farmers, Mastodon, Black Roses, and Acid Witch features. Know your roots!

Special offer: Order a copy of HEAVY METAL MOVIES directly from http://www.heavymetalmovies.com, and receive a bonus color sewn patch while supplies last…
PLAYLIST:
BLACK SABBATH "Mob Rules" from HEAVY METAL
MEGADETH – "In My Darkest Hour (Excerpt)" from DECLINE OF WESTERN CIVILIZATION PART II: THE METAL YEARS
NECROPHAGIA – "Cannibal Holocaust" from CANNIBAL HOLOCAUST
CANNIBAL CORPSE – "Hammer Smashed Face" from ACE VENTURA, PET DETECTIVE
BLOOD FARMERS "Gut Shot" from HEADLESS EYES
SLEEP – "Dragonaut" from GUMMO
IRON MAIDEN "Quest for Fire" from PIECE OF MIND
BLACK ROSES (LIZZY BORDEN) – "Me Against the World" from BLACK ROSES
MASTODON – "Cut You With a Linoleum Knife" from AQUA TEEN HUNGER FORCE MOVIE
CATHEDRAL – "Hopkins (Witchfinder General)" from HOPKINS
ACID WITCH "Metal Movie Marijuana Massacre" from STONED
Bloody Roots is Sound of the Beast author (and Bazillion Points publisher) Ian Christe's heavy metal history show on Sirius XM Liquid Metal channel 40. Since June 2004, each weekly show has examined another subgenre, band, movement, country, or theme in metal, punk, and heavy rock. The show is available on-demand online from SiriusXM.com.