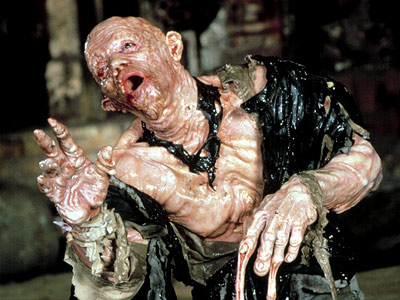 BLOODY ROOTS OF RADIOACTIVE NUCLEAR MUTANT METAL
Week of June 28, 2014
Sat 6/28, 6PM ET
Sun 6/27, 2PM ET
Tues 7/1, 3PM ET
Thurs 7/3, 9PM ET
Inspired by Mad Max and other apocalyptic sci-fi films in HEAVY METAL MOVIES, this week Bloody Roots surveys the harsh landscape of radiation-fueled, post-nuke mutant metal. Checking out Cold War-era thrash metal (Sodom, Nuclear Assault), death-thrash (Cremains, Mutant Supremacy), and sick death metal (Autopsy), host Ian Christe (Sound of the Beast / Bazillion Points) holds a Geiger counter up to glowing green greatness by Carnivore, Ghoul, Deceased, Darkthrone, Repulsion, Voivod, and many more… Mutate your Roots!
For a 568-page onslaught of post-apocalyptic nuclear wasteland warrior movies, pick up an oozing green copy of HEAVY METAL MOVIES: Guitar Barbarians, Mutant Bimbos & Cult Zombies Amok in the 666 Most Ear- and Eye-Ripping Big-Scream Films Ever!
PLAYLIST
MUTANT SUPREMACY – "Morbid Dismemberment" from INFINITE SUFFERING
SODOM – "Nuclear Winter" from PERSECUTION MANIA
NUCLEAR ASSAULT – "Radiation Sickness" from GAME OVER
MERCILESS – "Nuclear Attack" from PROJECTIONS OF A STAINED MIND
CARNIVORE "Thermonuclear Warrior" from CARNIVORE
CREMAINS – "Nuclear Carnage" from DEMO
REPULSION – "Radiation Sickness" from HORRIFIED
DARKTHRONE – "Atomic Coming" from THE CULT IS ALIVE
DECIMATOR – "Nuclear Sacrifice" from KILLING TENDENCY
GHOUL – "Mutant Mutilator" from SPLATTERTHRASH
RADIATION SICKNESS – "A Demented Love Song" from MADNESS BEGINS
MUTOID MAN – "Scavengers" from HELIUM HEAD
AUTOPSY – "Mutant Village" from ALL TOMORROWS FUNERALS
CHILDREN OF TECHNOLOGY – "Postnuclear Quarantine" from THE DAY AFTER
VOIVOD – "Nuclear War" from WAR + PAIN
LEGIONS – "Radiation Poisoning" from APPARITION SONGS 7″
DECEASED – "Birth By Radiation" from LUCK OF THE CORPSE
Bloody Roots is Sound of the Beast author (and Bazillion Points publisher) Ian Christe's heavy metal history show on Sirius XM Liquid Metal channel 40. Since June 2004, each weekly show has examined another subgenre, band, movement, country, or theme in metal, punk, and heavy rock. The show is available on-demand online from SiriusXM.com.