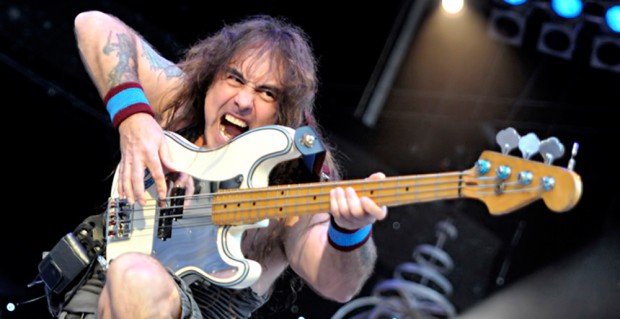 BLOODY ROOTS OF METAL BASSISTS 
Week of July 12, 2014
Sat 7/12, 6PM ET
Sun 7/13, 2PM ET
Tues 7/15, 3PM ET
Thurs 7/17, 9PM ET
Join host Ian Christe ("Sound of the Beast"/Bazillion Points Books) for a ground-shaking survey of key bass guitar players and styles in heavy metal history. Celebrate the bedrock and the fireworks of brutal bass bashers including Lemmy Kilmister, Cliff Burton, Steve DiGiorgio, Geezer Butler, Joe Preston, Jeroen Paul Thesseling, and others. Boost the bass on tracks by Thrones, Black Sabbath, Necrophagist, Iron Maiden, Obscura, Om, Death, and more! Know your Roots!
For a stunning gallery of photos of Cliff Burton, including the bassist's first-ever jam session with Metallica, check out MURDER IN THE FRONT ROW: Shots From the Bay Area Thrash Metal Epicenter. And don't miss the early history of AC/DC during the Bon Scott era, DIRTY DEEDS: My Life Inside/Outside of AC/DC, by bassist Mark Evans.
PLAYLIST: 
MOTORHEAD – "The Hammer" from ACE OF SPADES 
IRON MAIDEN – "The Trooper" from LIVE AFTER DEATH
HETFIELD ULRICH BURTON – "Fight Fire" from REMIX THE LIGHTNING
PRIMUS – "Jerry Was a Race Car Driver" from SAILING THE SEAS OF CHEESE
DEATH – "Lack of Comprehension" from HUMAN
NECROPHAGIST – "Fermented Offal Discharge" from ONSET OF PUTREFACTION
THRONES – "Senex" from SENEX 7"
OM – "State of Non Return" from ADVAITIC SONGS
HEAVEN AND HELL – "Sign of the Southern Cross" from LIVE AT RADIO CITY MUSIC HALL
OBSCURA – "The Anticosmic Overload" from COSMOGENESIS
THE FACELESS – "Deconsecrate" from AUTOTHEISM
Bloody Roots is Sound of the Beast author (and Bazillion Points publisher) Ian Christe's heavy metal history show on Sirius XM Liquid Metal channel 40. Since June 2004, each weekly show has examined another subgenre, band, movement, country, or theme in metal, punk, and heavy rock. The show is available on-demand online from SiriusXM.com.