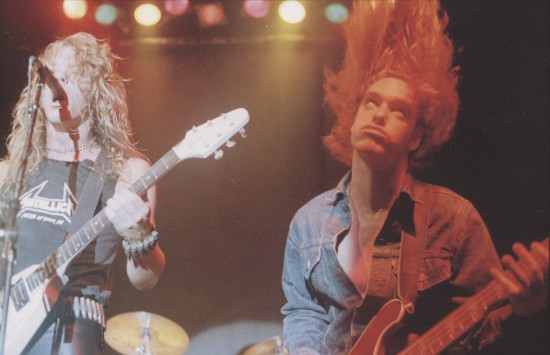 Photos by Harald Oimoen
July 27 marks the 30th anniversary of Metallica's Ride the Lightning. Along with original shots from the Slayer Hell Awaits album and the Exodus landmark Bonded by Blood, not to mention Possessed's Seven Churches, the Bazillion Points photo book MURDER IN THE FRONT ROW: Shots from the Bay Area Thrash Metal Epicenter, by Harald Oimoen and Brian Lew, includes Cliff Burton's portrait from the back of Metallica's stunning second album.
Every photo in MURDER has a pretty good story, and the background behind this particular Cliff pic is a pretty good one.  Harald, who has played bass himself for almost 20 years with crossover legends D.R.I, tells the tale:
"First of all, the shots almost didn't exist. Cameras weren't allowed at this show [a September 1, 1983, gig at the Keystone Palo Alto], so about halfway through I got mine taken away by security. They were just about to expose the film, but luckily I was able to roll it back into the canister before they were able to ruin it! The film was confiscated, but lucky for me a buddy of mine was able to get it back. That roll had the classic Cliff shot from Ride the Lightning on it. I never received a penny for the shot, but the credit was priceless.
I used to sell my photos outside of shows. I always felt kind of guilty selling my shots of Metallica, because they were my pals. One time at the Stone in San Francisco, I traded a joint for a couple of 8×10's of Cliff. That evening, I smoked the joint with Cliff across the street from the Stone in the parking lot. We turned around, and just so happened to be leaning on the car that had my Cliff shot I had traded for the doob on the dashboard! Cliff totally tripped on this. "

"My best known shot, from the back of Ride the Lightning. Cliff told me he dug this shot because he was doing a sick string-bend. I never got the original negative back from Cliff. This is a duplicate, and I had him sign the negative"—Harald Oimoen
So that's our mini-celebration of this classic piece of thrash metal history. Okay, here's a little more. In his foreword to Murder in the Front Row, Oimoen recalls how he learned his photo was going to be used for the album:
"In spring of 1984 I got a call from Brian Lew that changed my life. He had just talked to Cliff Burton, who was in Denmark putting the finishing touches on Metallica's second album, Ride the Lightning. Brian told me Cliff wanted to use one of my shots for the back cover of the album. I couldn't friggin' believe it! One of my favorite bassists in one of my favorite, most killer bands ever, wanted to use my picture on his album. I was so stoked and excited! I got the biggest thrill in my life riding my bike to the Record Factory in Sunnyvale, picking up an import copy of Ride the Lightning, and seeing my shot of Cliff on the back. Words cannot explain how it felt to see my photo printed in full color on the back of the cover of an album. I was totally hooked! I frantically opened the record, searching for my name printed on the sleeve. I totally freaked when I saw myself listed in the special thanks list as "'Weird' Harold O." Then, separated from the LP thanks list, were the actual back cover photo credits listing the photographers who had taken each live shot, including: "Cliff—Harold O."
"I couldn't believe every metalhead who bought that Metallica album all over the world was going to read my name! It turned out Cliff couldn't remember how to spell my strange Norwegian last name. Little did Metallica know, they had unwittingly given me a long-lasting new nickname. "Harald Oimoen" now became "Harald O." and I was off and running."
ABOVE: "Cliff's second choice for the back of Ride the Lightning"—Harald Oimoen
For alternate shots from the September 1983 show, and 400 others, check out:
MURDER IN THE FRONT ROW: Shots From the Bay Area Thrash Metal Epicenter