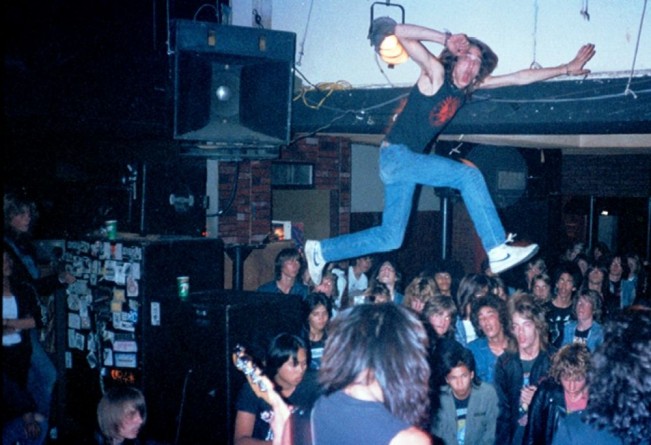 BLOODY ROOTS 10TH ANNIVERSARY FULL CONTACT METAL DANCE PARTY
Week of August 30, 2014
Sat 8/30, 6PM ET
Sun 8/31, 2PM ET
Mon 9/1, 5PM ET
Tues 9/2, 3PM ET
Thurs 9/4, 9PM ET
PHOTO: Toby Rage walking on heads while Death Angel knocks out headbangers and the infamous Bay Area pit, circa 1986. Photo by Harald Oimoen, from MURDER IN THE FRONT ROW.
Metal history without mercy! This week Ian Christe ("Sound of the Beast"/Bazillion Points) celebrates ten years of weekly heavy metal history lessons with a litany of bonecracking songs about moshing, stagediving, headbanging, and otherwise going crazy to the strains of pure unadulterated METAL. Since 2004, Bloody Roots has each week focussed on different countries, moments in metal history, metal concepts and techniques, and key figures in the movement; over 500 shows total featuring over 5000 bands. This week's full contact playlist includes moshpit anthems by Exodus, Motörhead, S.O.D., Obituary, Birdflesh, Cranium, Violator, Testament, D.R.I., Dave Mustaine-era Metallica, Municipal Waste, Hatebreed, and many more. Thank you for ten years of metal terror! Now strap on your combat boots and know your Roots!!!
PLAYLIST:
Lich King – "Combat Mosh" from BORN OF THE BOMB
Motorhead – "Dance" from ACE OF SPADES
S.O.D.- "Milano Mosh" from SPEAK ENGLISH OR DIE
Exodus – Toxic Waltz" from FABULOUS DISASTER
D.R.I. – "Thrashard" from THRASH ZONE
Testament – Into The Pit" from LIVE IN LONDON
Whiplash – "Stage Dive" from POWER + PAIN
Megadeth "Rattlehead" from LIVE 1990
Metallica – "Whiplash" from MEGAFORCE KUSF DEMO 1983
Evile – "Thrasher" from ENTER THE GRAVE
Flapjack – "Stage Diver" from RUTHLESS KICK
Cranium – "Slaughter on the Dance Floor" from SPEED METAL SLAUGHTER
Kadavrik – "Let My Blood Boil Tonight" from N.O.A.H.
Violator – "Addicted To Mosh" from CHEMICAL ASSAULT
Kazjurol – "Stagedive To Hell" from DANCE TARENTELLA
Metalucifer – "Headbanging" from HEAVY METAL DRILL
Obituary – "Redneck Stomp" from FROZEN IN TIME
The Obsessed – "Peckerwood Stomp" from INCARNATE
Birdflesh – "Night of The Ultimate Mosh" from NIGHT OF THE ULTIMATE MOSH
Municipal Waste – "Jock Pit" from WASTE EM ALL
Anthrax – "Caught in a Mosh" from ALIVE 2
Hatebreed – "Destroy Everything" from WITH FULL FORCE 2007
Bloody Roots is Sound of the Beast author (and Bazillion Points publisher) Ian Christe's heavy metal history show on Sirius XM Liquid Metal channel 40. Since June 2004, each weekly show has examined another subgenre, band, movement, country, or theme in metal, punk, and heavy rock. The show is available on-demand online from SiriusXM.com.