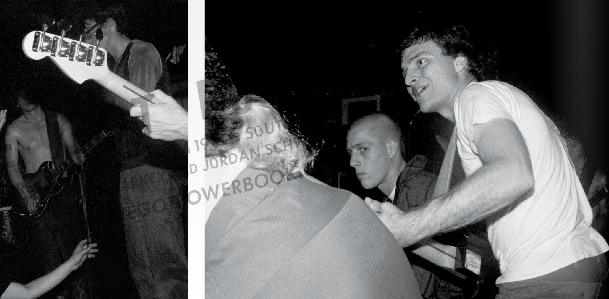 On September 9/13 in Chicago and Saturday 9/20 in Denver, the Descendents were/will be joined by original bass bender Tony Lombardo for a complete revival of the band's landmark 1982 album Milo Goes to College. Performing this record in its entirety, this is the first time Tony has played live with the band in thirty years.
In honor of these prophets of pop punk, here's a full chapter excerpt from WE GOT POWER!: Hardcore Punk Scenes From 1980s Southern California, by David Markey and Jordan Schwartz. About a dozen pages of live photos of the original Descendents lineup, including Milo, Bill, Tony, and the inimitable Frank Navetta (R.I.P.), are illuminated here by the man who knew them best, Joe Carducci, in his heartfelt essay "Frank Navetta and the Descendents." Enjoy!
WE GOT POWER! also features essays by Henry Rollins, Keith Morris, Janet Housden, Dez Cadena, Tony Adolescent, Chuck Dukowski, and many others, and ships today with a reflective "Anarchy Puss" metal badge and official We Got Power! press pass.
"Vital to understanding the birth of American punk rock…an essential addition to the history of a movement"—Los Angeles Times
And Carducci regularly interrogates the world's happenings at the New Vulgate.