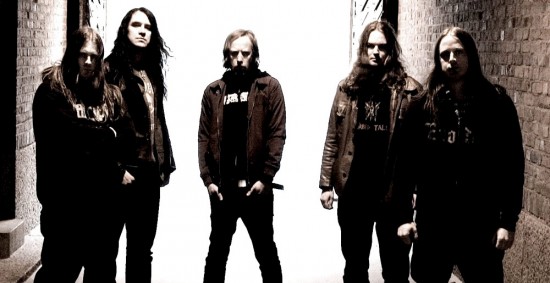 Bloody Roots of At the Gates
Week of September 27, 2014
Sat 9/27, 6PM ET
Sun 9/28, 1PM ET
Mon 9/29, 9AM ET
Tues 9/30, 4PM ET
Thurs 10/2, 9PM ET
Nineteen years after the release of the masterpiece Slaughter of the Soul, we welcome the return and first new music of Gothenburg, Sweden's, At the Gates. Host Ian Christe (Bazillion Points) delivers a melodic death metal history lesson, complete with music by Grotesque, Liers in Wait, Terror, Oxiplegatz, Disfear, Lock Up, Skitsystem, the Haunted, and brand new music by At the Gates. Know your Roots!
For further reading on At the Gates, check out SWEDISH DEATH METAL, and don't miss the epic underground metal odyssey METALION: THE SLAYER MAG DIARIES, featuring a foreword by Tomas Lindberg of At the Gates.
PLAYLIST:
Grotesque – "Blood Runs From The Altar" from IN THE EMBRACE OF EVIL
At The Gates – "City of Screaming Statues" from THE RED IN THE SKY IS OURS
Liers in Wait – "Maleficent Dreamvoid" from SPIRITUALLY UNCONTROLLED ART
Terror – "Terror" from DEMO 1994
Oxiplegatz – "Quest" from WORLDS AND WORLDS
At The Gates – "Terminal Spirit Disease" from TERMINAL SPIRIT DISEASE
At the Gates – "Blinded by Fear" from SLAUGHTER OF THE SOUL
Skitsystem – "Pain, Death, Hate" from GRA WARLD / SVARTA TANKAR
Disfear – "Misanthropic Generation" from MISANTHROPIC GENERATION
Lock Up – "Hate Breeds Suffering" from HATE BREEDS SUFFERING
The Haunted – "No Compromise" from REVOLVER
At the Gates – "Cold" from WACKEN 2008
At the Gates – "At War With Reality" from AT WAR WITH REALITY
Bloody Roots is Sound of the Beast author (and Bazillion Points publisher) Ian Christe's heavy metal history show on Sirius XM Liquid Metal channel 40. Since June 2004, each weekly show has examined another subgenre, band, movement, country, or theme in metal, punk, and heavy rock. The show is available on-demand online from SiriusXM.com.