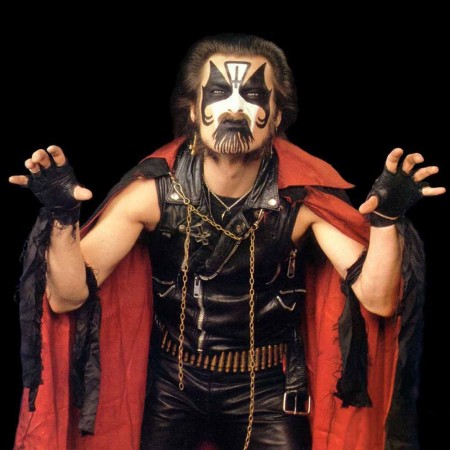 BLOODY ROOTS SALUTE TO KING DIAMOND
Week of October 11, 2014
Sat 10/11, 6PM ET
Sun 10/12, 1PM ET
Mon 10/13, 9AM ET
Tues 10/14, 4PM ET
Thurs 10/16, 9PM ET
This week's metal history show honors the totally unique King Diamond, featuring highlights from thirty years of incredible metal in Black Rose, Mercyful Fate, King Diamond, and collaborating with musicians including Dave Grohl, Pantera, and others. Hail to the King! Know your Roots!
For further study on the early years of Mercyful Fate, check out METALION: The Slayer Mag Diaries, by Jon Kristiansen.
PLAYLIST:
King Diamond – "Abigail" from ABIGAIL
Mercyful Fate – "Curse of the Pharaohs" BURNING THE CROSS DEMO
Black Rose – "Doctor Cranium" from TWENTY YEARS AGO
Mercyful Fate – "At The Sound Of The Demon Bell" from MELISSA
Mercyful Fate – "A Dangerous Meeting" from DON'T BREAK THE OATH
King Diamond – "Halloween" from FATAL PORTRAIT
Probot – "Sweet Dreams" from PROBOT
Pantera with King Diamond – "The Ripper" from NEW YEAR'S EVE 1992
Roadrunner United – "In The Fire" from ROADRUNNER UNITED
King Diamond – "The Puppet Master" from THE PUPPET MASTER
King Diamond – "Never Ending Hill" from GIVE ME YOUR SOUL… PLEASE
Bloody Roots is Sound of the Beast author (and Bazillion Points publisher) Ian Christe's heavy metal history show on Sirius XM Liquid Metal channel 40. Since June 2004, each weekly show has examined another subgenre, band, movement, country, or theme in metal, punk, and heavy rock. The show is available on-demand online from SiriusXM.com.