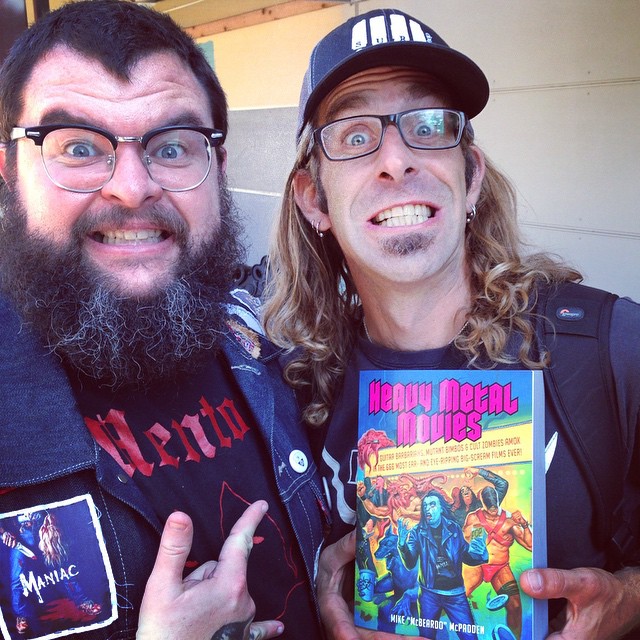 BLOODY ROOTS OF HEAVY METAL MOVIES: HALLOWEEN EDITION
With special guest Mike "McBeardo" McPadden
Week of October 25, 2014
Sat 10/25, 6PM ET
Sun 10/26, 1PM ET
Mon 10/27, 9AM ET
Tues 10/28, 4PM ET
Thurs 10/30, 9PM ET
Armed with a bloody hatchet and the greatest playlist of horror-movie metal songs ever assembled, Mike "McBeardo" McPadden, author of
HEAVY METAL MOVIES: Guitar Barbarians, Mutant Bimbos & Cult Zombies Amok in the 666 Most Ear- and Eye-Ripping Big-Scream Films Ever
, joins host Ian Christe for a Halloween edition of Bloody Roots dedicated to metal scares and music by Megadeth, Entombed, Melvins, Goblin, Possessed, Fantomas, Type O Negative, S.O.D., Misfits, and more! Spook your Roots!
PLAYLIST:
ENTOMBED – "Left Hand Path" from LEFT HAND PATH
MEGADETH – "No More Mr. Nice Guy" from SHOCKER
DESTRUCTION – "Mad Butcher" from MAD BUTCHER
GOBLIN – "Suspiria" from SUSPIRIA
POSSESSED – "The Exorcist" from SEVEN CHURCHES
FANTOMAS – "Rosemary's Baby" from THE DIRECTOR'S CUT
MELVINS – "Ballad of Dwight Fry" from LYSOL
FABIO FRIZZI – "Zombie Theme" from ZOMBIE OST
S.O.D. – "Freddy Krueger" from SPEAK ENGLISH OR DIE
TYPE O NEGATIVE – "Black Sabbath" from NATIVITY IN BLACK
MISFITS – "Night of the Living Dead" from WALK AMONG US
Bloody Roots is Sound of the Beast author (and Bazillion Points publisher) Ian Christe's heavy metal history show on Sirius XM Liquid Metal channel 40. Since June 2004, each weekly show has examined another subgenre, band, movement, country, or theme in metal, punk, and heavy rock. The show is available on-demand online from SiriusXM.com.