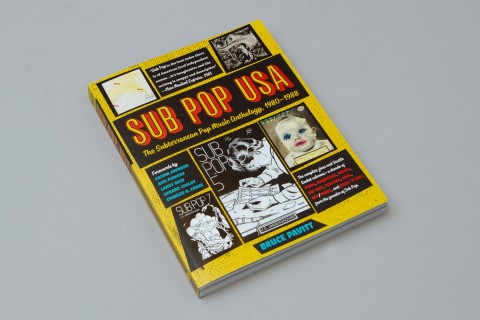 photo courtesy of Selectism.com
Hi everybody. Thirty years of indie publishing and independent music will collide in Seattle on November 29, celebrating "Small Business Saturday" in intimate grand style with the release of SUB POP USA: The Subterranean Pop Music Anthology, 1980–1988, by  Sub Pop founder Bruce Pavitt. This 400-page survey of independent music during the 1980s is both a prelude to the creation of Sub Pop Records, and a call to arms for independent artists, writers, and musicians everywhere.
"We need diverse, regionalized, localized approaches to all forms of art, music, and politics…the most intense music, the most original ideas are coming out of scenes you don't even know exist. Tomorrow's pop is being realized today on small decentralized record labels that are interested in taking risks, not making money."—Bruce Pavitt, Sub Pop #1, 1980
The night will feature a performance and DJ set by Calvin Johnson of Beat Happening/Dub Narcotic/K Records, who joined the Sub Pop zine staff in Olympia, WA, in 1980. Appearances by thirty years' worth of regional music superstars and scenesters will highlight the power of homegrown, DIY, creative endeavors, while simultaneously TURNING THIS MUTHA OUT!
Saturday, November 29
6 p.m. to ???
Fantagraphics Bookstore & Gallery
1201 South Vale Street
As Larry Reid writes in the Fantagraphics blog:
Casual fans of Fantagraphics may not be aware of the close association we have with Seattle's illustrious music scene. I was reminded of this relationship on Friday while attending a sold out Mudhoney and Tom Price Desert Classic concert. Nearly half the musicians on stage that night were former or current Fantagraphics staffers. What a great place to work!

We'll celebrate the legacy of Seattle's early music and comix on Saturday, November 29 as Fantagraphics Bookstore & Gallery hosts the book launch party for Sub Pop USA: The Subterranean Music Anthology, 1980 -1988. The book documents the formative years of Bruce Pavitt's fiercely independent fanzine, cassette label and music column. Fantagraphics curator Larry Reid was a contributor to the fanzine (under the pseudonym Lewy Louie.). Bookstore staffer Russ Battagliacontributed graphics and photos to the zine, which were graced with covers by Lynda Barry and Charles Burns. It was amazing to see the almost immediate infleunce Pavitt's modest enterprise had on pop music. To those close to him, it came as no surprise that within a decade, Sub Pop would impact popular culture on a global scale.

The book includes essays by Reid, Charles R. Cross, Ann Powers, Gerard Cosloy, and Calvin Johnson, founder of K Records and early Sub Pop fanzine collaborator. Johnson will perform music at the party, which is the first time he'll play Fantagraphics since Beat Happening rocked our wild warehouse party in 1994 (attended by newly anointed princes of punk, Nirvana). Many contributors to the old zine and new book will be at the November 29 reception from 6:00 to 8:00 PM – a great way to end Small Business Saturday.

Fantagraphics Bookstore is located at 1201 S. Vale Street in the heart of Seattle's historic Georgetown arts community. Open daily 11:30 to 8:00 PM, Sundays until 5:00 PM. Phone 206.658.0110.
SUB POP USA Launch Party Facebook page

Order SUB POP USA with a free cotton tote bag