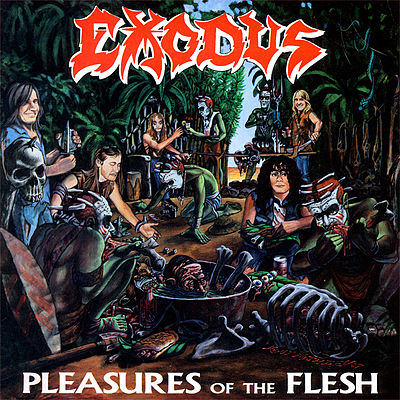 BLOODY
ROOTS
THANKSGIVING
 WEEK CANNIBAL FEAST
Week of Nov. 22, 2014
Sat 11/22, 6PM ET
Sun 11/23, 1PM ET
Mon 11/24, 9AM ET
Tues 11/25, 4PM ET
Thurs 11/27, 9PM ET
As the holidays approach, and the season of gastronomy and gluttony approach, Bloody Roots gives thanks and shows a love of humanity—well-seasoned with salt and pepper! Metal's adventures across the ultimate taboo are on the menu, with cannibal tales of turmoil from Necrophagia, Exodus, Slayer, Black Uniforms, Bloodbath, SNFU, Misfits, Avulsed, God Dethroned, Mortician, and, yes, Cannibal Corpse. Let the feast begin—gnaw your Roots!
PLAYLIST:
NECROPHAGIA – "Cannibal Holocaust" from CANNIBAL HOLOCAUST
CARCASS – "Exhume to Consume" from GRIND CRUSHER
EXODUS – "Pleasures of the Flesh" from 1986 DEMO
SLAYER – "213" from LIVE INTRUSION
BLACK UNIFORMS – "Cannibal Carnage" from SPLATTER PUNX ON ACID
CANNIBAL CORPSE – "Edible Autopsy" from EATEN BACK TO LIFE
CARNIVORE – "Predator" from CARNIVORE
MISFITS – "Blood Feast" from EARTH AD
BLOODBATH – "Eaten" from WACKEN 2005
SNFU – "Cannibal Cafe" from AND NO ONE ELSE WANTED TO PLAY
AVULSED – "Nazino (Cannibal Hell)" from NULLO
MORTICIAN – "Cannibal Feast" from HACKED UP FOR BARBECUE
GOD DETHRONED – "
Bloody
 Blasphemy" from 
BLOODY
 BLASPHEMY
Bloody Roots is Sound of the Beast author and Bazillion Points publisher Ian Christe's heavy metal history show on Sirius XM Liquid Metal channel 40. Launched in June 2004, each weekly show has examined another subgenre, band, movement, country, or theme in metal, punk, and heavy rock. Past episodes are available on-demand online from SiriusXM.com.