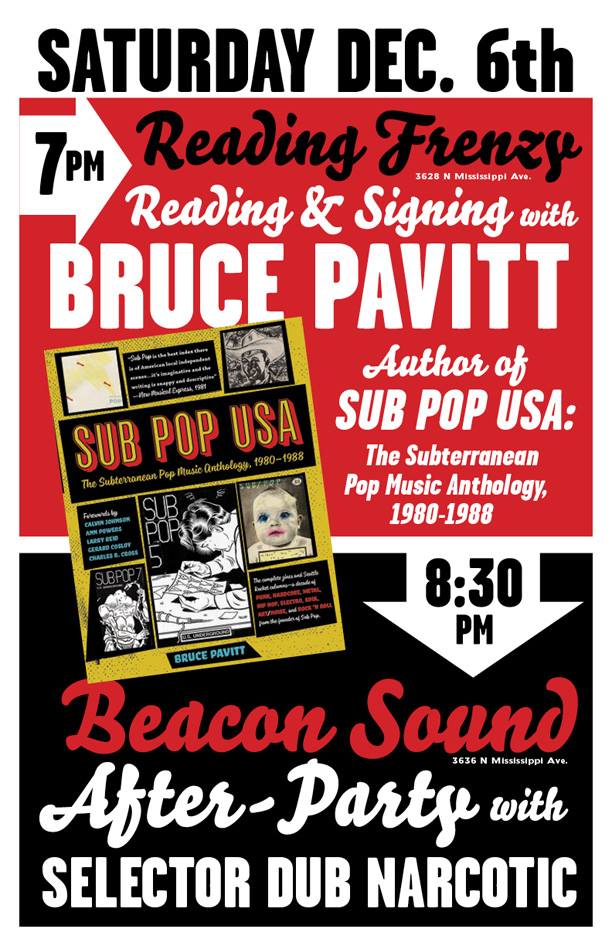 Sub Pop USA's celebration of local and regional independent music comes to Portland, OR, the night of Saturday, December 6, as author Bruce Pavitt lays down the law with Selector Dub Narcotic, aka original Subterranean Pop contributor Calvin Johnson.
WHEN: Sat. 12/6/14, 7PM
WHERE: Reading Frenzy, 3628 North Mississippi Ave.
AFTER-PARTY: Beacon Sound, 3636 North Mississippi Ave.
Many people don't realize that years before there was Sub Pop, the legendary indie record label, co-founder Bruce Pavitt ran a radio show and produced a zine called Subterranean Pop. Sub Pop USA is a complete collection of Pavitt's zine and Sub Pop USA columns for The Rocket.

Bruce Pavitt currently lives in Seattle, Washington. He keeps engaged in music by periodically speaking at conferences and festivals, consulting with artists and music labels, and as a DJ. A true music fan, Bruce continues to study music history in every genre.

Selector Dub Narcotic hails from Olympia, Washington and is the pseudonym of choice for Calvin Johnson when he is engaged in spinning records. Drawing largely from a stack of 45s, he is known to mix the genres dancehall, soul, punk, garage, R&B, rock steady, bubblegum and rockabilly with assorted curiosities of the current underground music scene.
Books, beats, and beers with two of the founding fathers of U.S. independent rock!