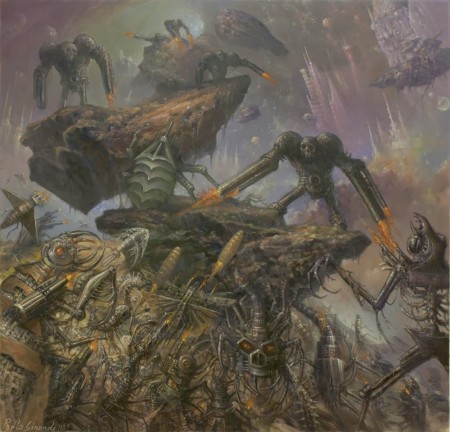 BLOODY ROOTS OF METAL DEBUTS IN 2014
Week of January 10, 2015
Sat 1/10, 6PM ET
Sun 1/11, 1PM ET
Mon 1/12, 9AM ET
Tues 1/13, 4PM ET
Thurs 1/15, 9PM ET
This week's metal history lesson excavates some of the sharpest, hardest artifacts from the fresh dig site of 2014. Highlights include Thantifaxath and Krokodil, plus the power metal of Primalfrost and Noble Beast, the occult rock of the Oath, the intense black metal of Exordium Mors and Sonus Mors, and the technical death of Narcotic Wasteland and Artificial Brain. Know your Roots!
Visit Bazillion Points Books HERE: http://www.bazillionpoints.com/
PLAYLIST:
Exordium Mors – "As the Vultures Descend" from THE APOTHEOSIS OF DEATH
Black Crown Initiate – "Withering Waves" from THE WRECKAGE OF STARS
Sonus Mortis – "And The Foundations Start To Decay" from PROPAGANDA DREAM SEQUENCE
Primalfrost – "Distant Cries of War" from PROSPEROUS VISIONS
The Oath – "All Must Die" from THE OATH
Narcotic Wasteland – "The Shackles of Sobriety" from NARCOTIC WASTELAND
Noble Beast – "Iron Clad Angels" from NOBLE BEAST
Thantifaxath- "Gasping in Darkness" from SACRED WHITE NOISE
Artificial Brain – "Wired Opposites" from LABYRINTH CONSTELLATION
Black Monolith – "Victims & Hangmen" from PASSENGER
Krokodil – "Shatter" from NACHASH
Bloody Roots is Sound of the Beast author and Bazillion Points publisher Ian Christe's heavy metal history show on Sirius XM Liquid Metal channel 40. Launched in June 2004, each weekly show has examined another subgenre, band, movement, country, or theme in metal, punk, and heavy rock. Past episodes are available on-demand online from SiriusXM.com.