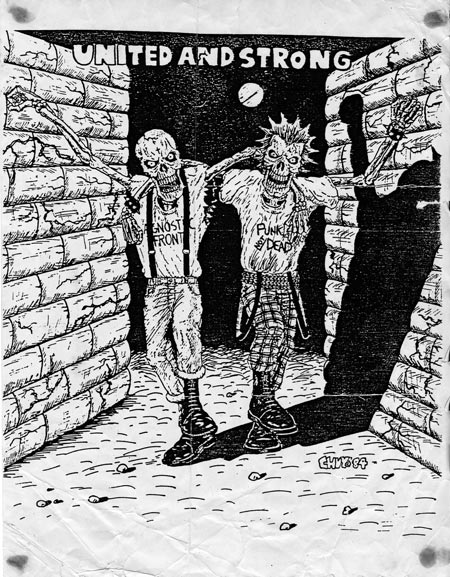 Colloquium for Unpopular Culture at NYU & Bazillion Points Present:
NYHC: Dancing in the Frontlines
Tuesday, February 24
6:30 PM
Fourth Floor, 20 Cooper Square (East 5th and Bowery)
NYHC: New York Hardcore 1980–1990 author Tony Rettman puts heads together with NYHC veterans Richie Birkenhead (Underdog, Into Another, Youth of Today) and Walter Schreifels (Gorilla Biscuits, Quicksand, Youth of Today) for a discussion of the unique time, place, sound, and mindset of New York hardcore. Kelefa Sanneh (New Yorker, New York Times) will moderate the discussion.
Tony Rettman is the author of NYHC: New York Hardcore 1980–1990 (Bazillion Points, 2014) and Why Be Something That You're Not: Detroit Hardcore 1979–1985 (Revelation, 2010)
Richie Birkenhead has been the vocalist of Into Another and Underdog, and a guitarist in Youth of Today.
Walter Schreifels was a key member of Gorilla Biscuits, Quicksand, Warzone, and Youth of Today.
Moderator: Kelefa Sanneh is a staff writer at the New Yorker. From 2000 to 2008 he was a writer at the New York Times
"NYHC: New York Hardcore 1980-1990 is an essential document."—The Huffington Post
"An excellent history."—Austin American-Statesman
"Made up from over a hundred interviews conducted by Rettman and wielding over 500 images, the tome will delight both the New York hardcore nerd and novice alike as it careens through the scene's early days with the likes of Agnostic Front, Reagan Youth, The Mob, Urban Waste, and Cause For Alarm right into the late 80s heyday of Cro-Mags, Murphy's Law, Youth of Today, Underdog, and Sick of it All."—VICE/Noisey
"I'm floored! Tony Rettman's NYHC is by far one of the most informative looks at New York hardcore. Hardcore lives!"—Roger Miret, Agnostic Front
See you in the pit!
For more information, contact: bazillion@bazillionpoints.com