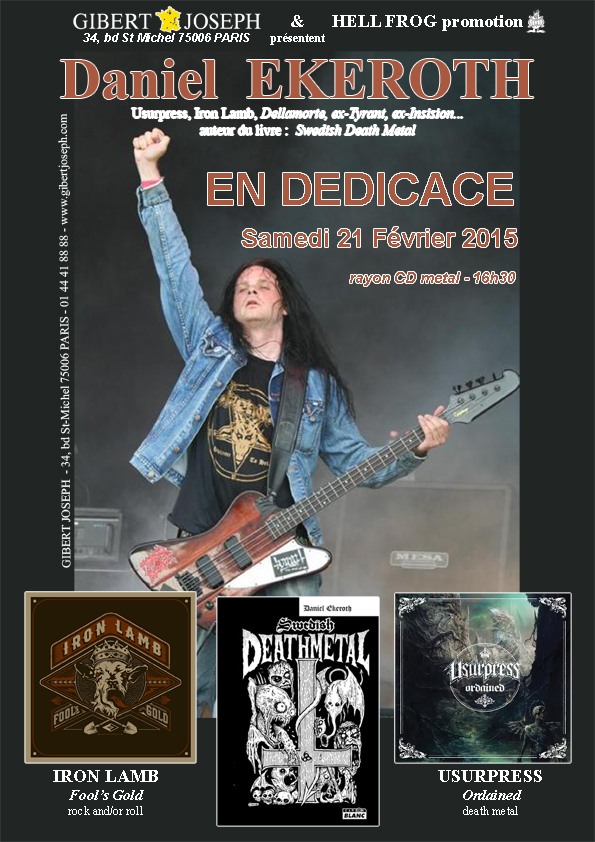 Daniel Ekeroth is a real man of arts and letters, and the City of Lights is embracing that. Ekeroth wrote SWEDISH DEATH METAL, SWEDISH SENSATIONSFILMS, and the long-lostViolent Italy: Incredible Exploitation Cinema. He has also played in bands like Insision, Tyrant, Dellamorte, Iron Lamb, Usurpress, and now reunited Swedish black metal legends Third Storm. The very first Bazillion Points author's dedication to will be on full display this weekend as Paris burns with Daniel Ekeroth fever. Here's the viking's itinerary:
Friday, February 20:
9PM (aka 2100h) Soirée Swedish Death Metal avec Daniel Ekeroth at Le Black Dog (26 Rue des Lombard). Book signing and partying, Daniel Ekeroth style.
Saturday, February 21:
1PM through 3:30PM (1300h-1530h), SWEDISH SENSATIONSFILMS book signing at Metaluna (7 rue Dante).
4:30PM (1630h), SWEDISH DEATH METAL book signing at Gibert Joseph VI (34, boulevard Saint Michel)
Come party with a lovable living legend!
For those unlucky souls who don't live in Paris, you can invite Ekeroth into your own home in book form:
SWEDISH DEATH METAL and SWEDISH SENSATIONSFILM