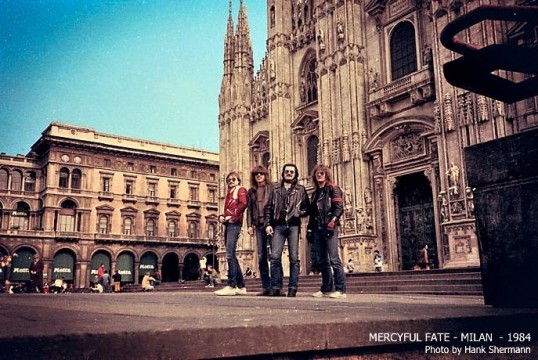 BLOODY ROOTS OF DANISH METAL
Week of February 21, 2015
Sat 2/21, 6PM ET
Sun 2/22, 1PM ET
Mon 2/23, 9AM ET
Tues 2/24, 4PM ET
Thurs 2/26, 9PM ET
While neighboring Sweden, Norway, and Finland reign in metal glory, proud Denmark also boasts a powerful metal legacy. Situated between Scandinavia and Germany, Danish bands like Mercyful Fate, Artillery, Illdisposed, and Invocator have woven together Nordic darkness with Teutonic precision. Sample highlights of the above bands, plus Konkhra, Pretty Maids, Rimfrost, Volbeat, and a special guest appearance in Mercyful Fate by Metallica's well-known Danish drummer, Lars Ulrich. Know your Roots!
For background on the early days of metal in Denmark, pick up a copy of the massive METALION: THE SLAYER MAG DIARIES.
PLAYLIST:
MERCYFUL FATE – "A Dangerous Meeting" from DON'T BREAK THE OATH
ARTILLERY – "10,000 Devils" from WHEN DEATH COMES
PRETTY MAIDS – "Future World" from FUTURE WORLD
INVOCATOR – "Weave the Apocalypse" from WEAVE THE APOCALYPSE
KONKHRA – "Through My Veins" from WEED OUT THE WEAK
ILLDISPOSED – "To Be Dealt With" from WITH THE LOST SOULS ON OUR SIDE
PANZERCHRIST – "Panzergrenadier" from SOUL COLLECTOR
VOLBEAT – "7 Shots" from WACKEN 2012
SUBMISSION – "Rebel of Society" from CODE OF CONSPIRACY
RIMFROST – "Darken" from A JOURNEY TO A GREATER END
MERCYFUL FATE w/LARS ULRICH – "Return of the Vampire" from IN THE SHADOWS
MNEMIC – "In the Nothingness Black" from PASSENGER
Bloody Roots is Sound of the Beast author and Bazillion Points publisher Ian Christe's heavy metal history show on Sirius XM Liquid Metal channel 40. Launched in June 2004, each weekly show has examined another subgenre, band, movement, country, or theme in metal, punk, and heavy rock. Past episodes are available on-demand online from SiriusXM.com.