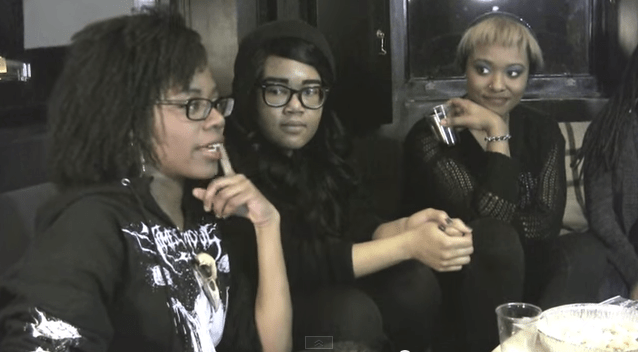 Challenging The White Gaze: Black Women in the Alternative Arts
This past January, the Ace Hotel New York offered What Are You Doing Here? author Laina Dawes a guest residency—one room, one night, and the key to the minibar. She brought together a cluster of black women to talk about their experiences in the rock, metal, and punk scenes.
Says Laina: "After the release of What Are You Doing Here? A Black Woman's Life and Liberation in Heavy Metal,  I wanted to create a visual component to encourage a community for black viewers who are struggling with their experiences in white-centric spaces. The Ace Hotel residency was a chance to build a supportive environment where women could talk openly about their experiences—both the good and the painful. Over time, this effort will expand to embrace other women in other cities in North America."
Faith Pennick of Organized Chaos Mediaworks Inc. brought a camera, and Laina Dawes edited together the evidence posted here, titled Challenging the White Gaze. Journalist Harriet Vinson was also on the scene, but not pictured on camera.
On-camera guests:
Jennifer Cruté (visual artist, graphic novelist)
Militia Vox (Judas Priestess, solo artist)
Ursula CP (journalist, former editor, HearEvil.com)
Ashley Denise MaGee (DJ Black Betty)
Kali Hollaway (singer, Easy Lover)
Dianca London (music journalist)
Cammy Simpson (dancer, metalhead)
Christina Long (founder, blkgrlswurld)
Beatrice Demesier (singer, Madame St. Beatrice)