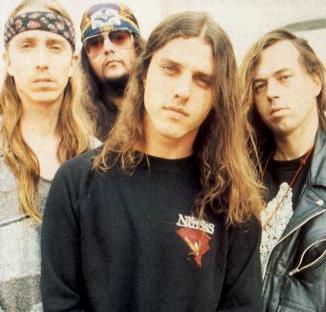 BLOODY ROOTS TWENTY-YEAR FLASHBACK TO 1995
Week of March 21, 2015
Sat 3/21, 6PM ET
Sun 3/22, 1PM ET
Mon 3/23, 9AM ET
Tues 3/24, 4PM ET
Thurs 3/26, 9PM ET
For this week's metal history lesson, host Ian Christe (Bazillion Points) turns back the clock twenty years to 1995, the year MTV killed Headbangers Ball and heavy metal was considered dead to the world. But from its lowest point, metal continued to renew and transform. Check out the influence of alternative rock on bands including Fear Factory, Anthrax, Down, and the Gathering, and witness the rise of the new era with groundbreaking 1995 music by Death, Meshuggah, At the Gates, Opeth, Dissection, Immortal, and more. Know your history, know your Roots!
PLAYLIST:
Fear Factory – "Self Bias Resistor" from DEMANUFACTURE
Anthrax – "Random Acts of Senseless Violence" from STOMP 442
Down – "Lifer" from NOLA
Morbid Angel – "Where the Slime Live" from DOMINATION
The Gathering – "Leaves" from MANDYLION
Death – "Crystal Mountain" from SYMBOLIC
At The Gates – "World of Lies" from SLAUGHTER OF THE SOUL
Dissection – "Where Dead Angels Lie" from STORM OF LIGHT'S BANE
Meshuggah – "Future Breed Machine" from DESTROY ERASE IMPROVE
Immortal – "Battles In The North" from BATTLES IN THE NORTH
Opeth – "Under The Weeping Moon" from ORCHID
Bloody Roots is Sound of the Beast author and Bazillion Points publisher Ian Christe's heavy metal history show on Sirius XM Liquid Metal channel 40. Launched in June 2004, each weekly show has examined another subgenre, band, movement, country, or theme in metal, punk, and heavy rock. Past episodes are available on-demand online from SiriusXM.com.