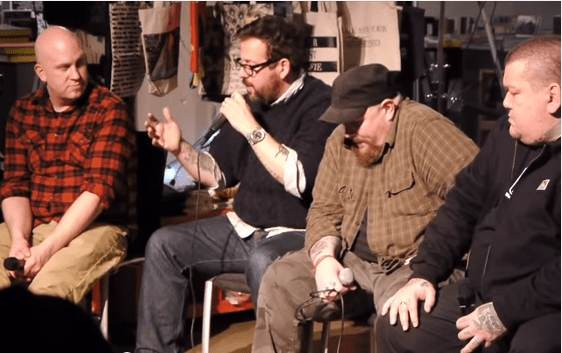 NYHC New York Hardcore 1980–1990 Book Launch (Tony Rettman Richie Birkenhead Mike Judge Paul Bearer)
Because the occasion was historic, and because everyone involved is strikingly beautiful, we recorded (in HQ!) the NYHC: New York Hardcore 1980-1990 book launch event from Dec. 11, 2014, at PowerHouse Arena in Brooklyn.
The night brought together a real rogues gallery of players from across the ages, centered around an hour-long talk with author Tony Rettman and NYHC survivors Richie Birkenhead (Underdog, Into Another, Youth of Today), Mike Judge (Death Before Dishonor, Judge) and Paul Bearer (Sheer Terror). Chris Tsakis (Nihilistics) and Jack Rabid (Even Worse, Big Takeover) also make appearances.
Leave your favorite quotes in the comments, and we'll add the linked timecode to the video info!
NYHC: New York Hardcore 1980-1990 ships today with a bonus badge today FROM NYHCBOOK.com.

L–R: Tony Rettman, Richie Birkenhead, Mike Judge, Paul Bearer