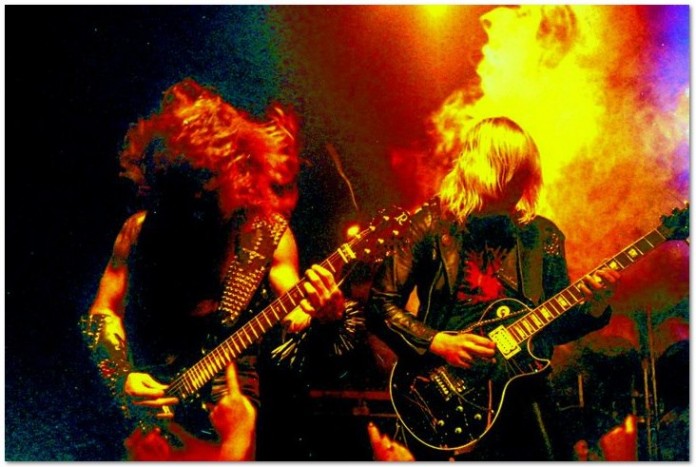 Photo by Harald Oimoen, from MURDER IN THE FRONT ROW
BLOODY ROOTS OF METAL GUITAR, PART TWO: THE 1980s
Week of April 11, 2015
Sat 4/11, 6PM ET
Sun 4/12, 1PM ET
Mon 4/13, 9AM ET
Tues 4/14, 4PM ET
Thurs 4/16, 9PM ET
Our monthlong review of metal guitar styles enters week two, with a headlong dive into the guitar teams, shredders, and six-string innovations that defined the popular and extreme sides of metal in the 1980s. Join us for a bulging hour of inhuman guitar work by Iron Maiden, Slayer, Voivod, Racer X, Alcatrazz, Trouble, Death, Morbid Angel, Randy Rhoads, and more! Know your Roots!
PLAYLIST:
IRON MAIDEN – "Purgatory" from PURGATORY
OZZY OSBOURNE – "Steal Away the Night" from MONTREAL 1981
ALCATRAZZ – "Jet to Jet" from NO PAROLE FROM ROCK AND ROLL
SLAYER – "Kill Again" from HELL AWAITS
MEGADETH – "Looking Down the Cross" from KILLING IS MY BUSINESS
TROUBLE – "Psalm 9" from PSALM 9
RACER X – "Scarified" from SECOND HEAT
NITRO – "Machine Gun Eddie" from OFR
VOIVOD – "Psychic Vacuum" from DIMENSION HATROSS
DEATH – "Pull the Plug" from LEPROSY REMASTERED
MORBID ANGEL – "Chapel of Ghouls" from ALTARS OF MADNESS
GODFLESH – "Veins" from GODFLESH
NIHILIST – "Abnormally Deceased" from ONLY SHREDS REMAIN
Bloody Roots is Sound of the Beast author and Bazillion Points publisher Ian Christe's heavy metal history show on Sirius XM Liquid Metal channel 40. Launched in June 2004, each weekly show has examined another subgenre, band, movement, country, or theme in metal, punk, and heavy rock. Past episodes are available on-demand online from SiriusXM.com.