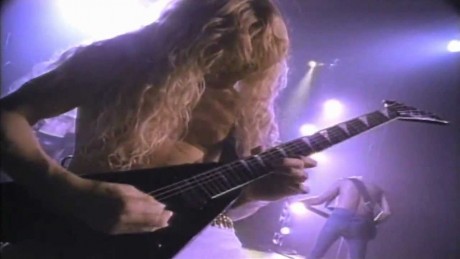 BLOODY ROOTS OF METAL GUITAR, PART III: THE 1990s
Week of April 18, 2015
Sat 4/18, 6PM ET
Sun 4/19, 1PM ET
Mon 4/20, 9AM ET
Tues 4/21, 4PM ET
Thurs 4/23, 9PM ET
For this week's metal history lesson, host Ian Christe ("Sound of the Beast"/Bazillion Points) voyages to the vast deserts of the 1990s for a look at the amazing but often overlooked development of metal guitar during its third decade. Tracks by Pantera, Carcass, Death, Emperor, Satyricon, Kyuss, Megadeth, and more!
PLAYLIST
MEGADETH – "Hangar 18" from RUST IN PEACE
PANTERA – "Strength Beyond Strength" from FAR BEYOND DRIVEN
DEATH – "Flattening of Emotions" from HUMAN
CARCASS – "Death Certificate" from HEARTWORK
NAPALM DEATH – "Plague Rages" from FEAR EMPTINESS DESPAIR
KYUSS – "Demon Cleaner" from WELCOME TO SKY VALLEY
EMPEROR – "Cosmic Keys to My Creation and Times" from IN THE NIGHTSIDE ECLIPSE
SATYRICON – "Mother North" from NEMESIS DIVINA
DISMEMBER – "Casket Garden" from MAXIMUM KILLING CAPACITY
AT THE GATES – "Slaughter of the Soul" from SLAUGHTER OF THE SOUL
NECROPHAGIST – "Fermented Offal Discharge" from ONSET OF PUTREFACTION
Bloody Roots is Sound of the Beast author and Bazillion Points publisher Ian Christe's heavy metal history show on Sirius XM Liquid Metal channel 40. Launched in June 2004, each weekly show has examined another subgenre, band, movement, country, or theme in metal, punk, and heavy rock. Past episodes are available on-demand online from SiriusXM.com.