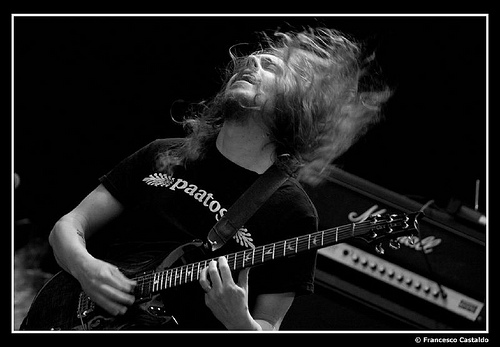 BLOODY ROOTS OF METAL GUITAR, PART IV: THE 2000s
Week of April 25, 2015
Sat 4/25, 6PM ET
Sun 4/26, 1PM ET
Mon 4/27, 9AM ET
Tues 4/28, 4PM ET
Thurs 4/30, 9PM ET
Powering into metal's fourth and fifth decades, Ian Christe's overview of metal guitar evolution continues with a barrage of innovators, including Opeth, Triptykon, Lamb of God, Dragonforce, Obscura, Agalloch, Dillinger Escape Plan, and the insane Portal. Know your Roots!
PLAYLIST:
ORIGIN – "Finite" from ANTITHESIS
LAMB OF GOD – "Hourglass" from ASHES OF THE WAKE
IN FLAMES – "Condemned" from A SENSE OF PURPOSE
DRAGONFORCE – "Through the Fire and the Flames" from INHUMAN RAMPAGE
OBSCURA – "The Anticosmic Overload" from COSMOGENESIS
TRIPTYKON – "Tree Of Suffocating Souls" from MELANA CHASMATA
OPETH – "Blackwater Park" from BLACKWATER PARK
AGALLOCH – "Celestial Effigy" from THE SERPENT AND THE SPHERE
MESHUGGAH – "Demiurge" from KOLOSS
DILLINGER ESCAPE PLAN – "Sunshine the Werewolf" from MISS MACHINE
PORTAL – "Curtain" from VEXOVOID
Bloody Roots is Sound of the Beast author and Bazillion Points publisher Ian Christe's heavy metal history show on Sirius XM Liquid Metal channel 40. Launched in June 2004, each weekly show has examined another subgenre, band, movement, country, or theme in metal, punk, and heavy rock. Past episodes are available on-demand online from SiriusXM.com.