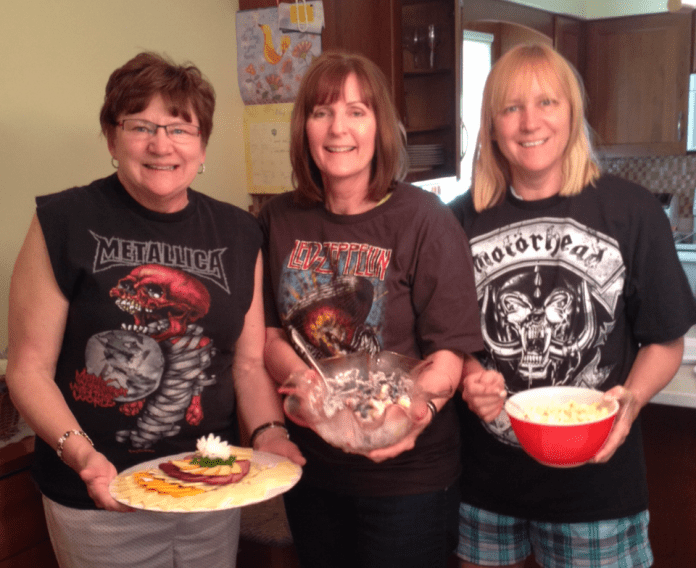 Bloody Roots Presents Metal for Mother's Day 2015
PHOTO: Lifted from the awesome http://mommetal.tumblr.com !!
Sat 5/9, 6PM ET
Sun 5/10, 1PM ET
Mon 5/11, 9AM ET
Tues 5/12, 4PM ET
Thurs 5/14, 9PM ET
In honor of the metal moms amongst us, the mothers who made us, and the women who will give birth to all future waves of headbangers, we present an hour of solid mama womb worship with sacred hymns to the brutal miracle of childbirth by Mastodon, Samhain, Fear Factory, Satyricon, Vendetta, Nuclear Assault, Rotten Sound, and more! Know your Roots, hug your moms!
PLAYLIST:
CHRISTIAN MISTRESS – "Mother Of Mercy" from SINGLE
ROTTEN SOUND – "Mom" from PSYCHOTIC VETERANARIAN
NUCLEAR ASSAULT – "Mothers Day" from LIVE AT THE HAMMERSMITH ODEON
VENDETTA – "Mother" from HATE
THE HEADCAT – "Say Mama" from WALK THE WALK, TALK THE TALK
SAMHAIN – "Mother of Mercy" from NOVEMBER COMING FIRE
THE OBSESSED – Lunar Womb" from LUNAR WOMB
MERCY – "Crazy Mama" from UNDERGROUND
MASTODON – "Mother Puncher" from LIVE AT THE ARAGON 2009
STRIKE MASTER – "Mother Hyena" from MAJESTIC STRIKE
PLAGUE WIDOW – "Womb" from PLAGUE WIDOW
FEAR FACTORY – "Soul Womb" from DEMO 1991
TYPE O NEGATIVE "Dark Side Of The Womb" from BLOODY KISSES
BURNT BY THE SUN – "When Corporations Rule Your Mom" from SPLIT
AS HELL RETREATS – "Matriarch" from VOLITION
ASESINO – Y Tu Mama Tambien-Tristo Satanico
SATYRICON – "Mother North" from THE AGE OF NERO
Bloody Roots is Sound of the Beast author and Bazillion Points publisher Ian Christe's heavy metal history show on Sirius XM Liquid Metal channel 40. Launched in June 2004, each weekly show has examined another subgenre, band, movement, country, or theme in metal, punk, and heavy rock. Past episodes are available on-demand online from SiriusXM.com.