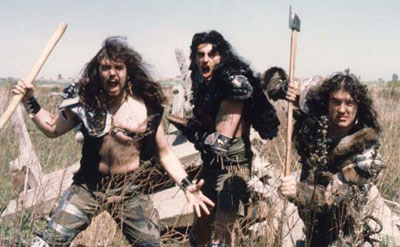 BLOODY ROOTS OF DYSTOPIAN HEAVY METAL
Week of May 16, 2015
Sat 5/16, 6PM ET
Sun 5/17, 1PM ET
Mon 5/18, 9AM ET
Tues 5/19, 4PM ET
Thurs 5/21, 9PM ET
Welcome to a brave new world of water shortages, genetic experiments, and tribal warfare. Inspired equally by Mad Max and the daily news, this week's history lesson scours the wastelands for the wild dystopian visions of Vektor, Black Sabbath, Fear Factory, Voivod, Napalm Death, Deceased, Iron Maiden, Sepultura, and other hardened survivors. Know your Roots!
For reviews of over 666 wild-eyed, post-apocalyptic, science fiction, dystopian movies, pick up HEAVY METAL MOVIES: Guitar Barbarians, Mutant Bimbos & Cult Zombies Amok in the 666 Most Ear- and Eye-Ripping Big-Scream Films Ever! by Mike "McBeardo" McPadden
PLAYLIST:
VEKTOR – "Deoxyribonucleic Acid" from BLACK FUTURE
BLACK SABBATH – "Computer God" from DEHUMANIZER
CHILDREN OF TECHNOLOGY – "Future Decay" from FUTURE DECAY
VOIVOD – "Killing Technology" from KILLING TECHNOLOGY
CARNIVORE – "Thermonuclear Warrior" from CARNIVORE
FEAR FACTORY – "New Breed" from DEMANUFACTURE
SEPULTURA – "Biotech Is Godzilla" from CHAOS AD
NAPALM DEATH – "Shattered Existence" from SMEAR CAMPAIGN
IRON MAIDEN – Brave New World" from BRAVE NEW WORLD
DECEASED – "Cloned (Day of the Robot)" from SURREAL OVERDOSE
BLACK SABBATH – "Into the Void" from MASTER OF REALITY
Bloody Roots is Sound of the Beast author and Bazillion Points publisher Ian Christe's heavy metal history show on Sirius XM Liquid Metal channel 40. Launched in June 2004, each weekly show has examined another subgenre, band, movement, country, or theme in metal, punk, and heavy rock. Past episodes are available on-demand online from SiriusXM.com.