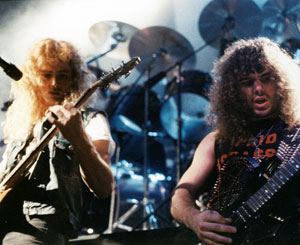 Week of June 27, 2015
Sat 6/27, 6PM ET
Sun 6/28, 1PM ET
Mon 6/29, 9AM ET
Tues 6/30, 4PM ET
Thurs 7/2, 9PM ET
With the June 1985 release of Killing Is My Business…and Business Is Good, Megadeth became the last of the "Big 4" to enter the thrash metal fracas. Thirty years later, Ian Christe ("Sound of the Beast"/Bazillion Points) cracks open the skull time capsule and examines Dave Mustaine's highly original early fury with a track-by-track rundown of the album featuring demo versions, live cuts, covers, and more surprises. Music by Megadeth, Metallica, Ghoul, Austrian Death Machine, Chris Poland, Toxic Holocaust, and Nancy Sinatra. Know your Roots!
Journey to the beginning days of Megadeth, including stage and soundcheck photos of the first live lineup with Kerry King, via the epic photo vault MURDER IN THE FRONT ROW: Shots From the Bay Area Thrash Metal Epicenter.
PLAYLIST:
MEGADETH – "Loved to Deth" from LAST RITES
MEGADETH – "Loved to Deth" from KILLING IS MY BUSINESS ORIGINAL
MELLOWDETH – "Killing Is My Business" from THE PUNISHER SUITE
AUSTRIAN DEATH MACHINE – "Killing Is My Business" from DOUBLE BRUTAL
GHOUL – "Skull Beneath the Skin" from WE CAME FOR THE DEAD
NANCY SINATRA – "These Boots Are Made for Walking" from LEE HAZLEWOOD TAPES
MEGADETH W/KERRY KING – "Rattlehead" from THE KEYSTONE BERKELEY 1984
MEGADETH – "Chosen Ones" from DENVER 1986
MEGADETH – "Looking Down the Cross" from KILLING IS MY BUSINESS REMASTERED
TOXIC HOLOCAUST – "Mechanix" from TOXIC THRASH METAL
METALLICA – "Mechanix" from POWER METAL DEMO
CHRIS POLAND – "Return to Metalopolis" from RETURN TO METALOPOLIS
ILLDISPOSED – "Wake Up Dead" from THERE'S SOMETHING ROTTEN IN THE STATE OF DENMARK
Bloody Roots is Sound of the Beast author and Bazillion Points publisher Ian Christe's heavy metal history show on Sirius XM Liquid Metal channel 40. Launched in June 2004, each weekly show has examined another subgenre, band, movement, country, or theme in metal, punk, and heavy rock. Past episodes are available on-demand online from SiriusXM.com.