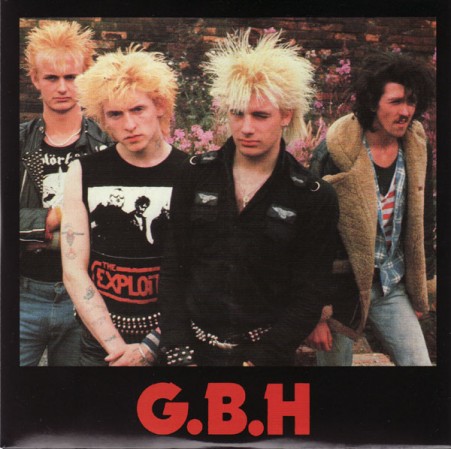 BLOODY ROOTS OF UK HARDCORE
Week of July 4, 2015
Sat 7/4, 6PM ET
Sun 7/5, 1PM ET
Mon 7/6, 9AM ET
Tues 7/7, 4PM ET
Thurs 7/9, 9PM ET
Barricade the windows and watch for falling bricks! This week Ian Christe (@ianchriste) leads a charge of leather, bristles, and spikes, filling the streets with the coarse, raw uprising of classic UK hardcore. Prepare for a total revolt with tracks by Discharge, GBH, Broken Bones, Concrete Sox, Disattack, Varukers, English Dogs, Conflict, Amebix, Heresy, Napalm Death, the Exploited, and many more! Know your Roots!
For a full immersion education in US hardcore, check out TOUCH AND GO: The Complete Hardcore Punk Zine '79–'83 , WE GOT POWER!: Hardcore Punk Scenes from 1980s Southern California, and the upcoming NYHC: New York Hardcore 1980–1990.
PLAYLIST:
Broken Bones – "City Fodder" from DEM BONES
Discharge – "Hear Nothing See Nothing Say Nothing" from HEAR NOTHING SEE NOTHING SAY NOTHING
Discharge – "Q- And Children? A- And Children" from HEAR NOTHING SEE NOTHING SAY NOTHING
Conflict –  From Protest to Resistance" from INCREASE THE PRESSURE
GBH – "City Baby Attacked By Rats" from CITY BABY ATTACKED BY RATS
G.B.H. – "City Babys Revenge" from CITY BABY'S REVENGE
Sacrilege – Shadow From Mordor" from BEYOND THE REALMS OF MADNESS
Chaos UK – "Four Minute Warning" from BURNING BRITAIN
Disattack – "The Next Attack" from A BOMB DROPS DEMO
English Dogs- "Psycho Killer" from MAD PUNX AND ENGLISH DOGS
The Varukers – "Murder" from MURDER
Concrete Sox – "Eminent Scum" from YOUR TURN NEXT
Heresy – "Cornered Rat" from FACE UP TO IT!
Napalm Death – "Scum" from SCUM
Doom – Sick with Society" from PRO-LIFE CONTROL
Bolt Thrower – In Battle There Is No Law" from IN BATTLE THERE IS NO LAW
The Exploited – chaos is my life" from FUCK THE SYSTEM
Amebix – "Chain Reaction" from ARISE
Bloody Roots is Sound of the Beast author (and Bazillion Points publisher) Ian Christe's heavy metal history show on Sirius XM Liquid Metal channel 40. Since June 2004, each weekly show has examined another subgenre, band, movement, country, or theme in metal, punk, and heavy rock. The show is available on-demand online from SiriusXM.com.