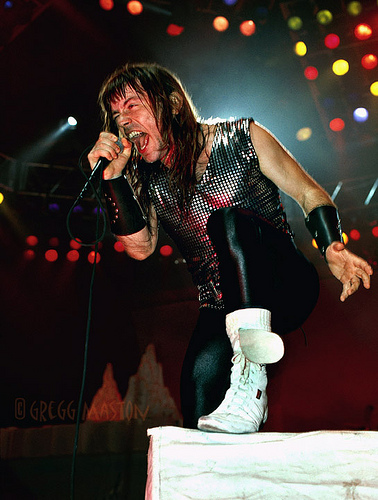 Bloody Roots of High-Pitched Metal Screaming on Sirius XM
Week of July 18, 2015
Sat 7/18, 6PM ET
Sun 7/19, 1PM ET
Mon 7/20, 9AM ET
Tues 7/21, 4PM ET
Thurs 7/23, 9PM ET
This week's metal history lesson revives the overlooked traditional art of high-pitched metal screaming, as practiced in the classic heavy metal, thrash metal, and death metal eras by bands including Judas Priest, Iron Maiden, Jag Panzer, Savatage, Mercyful Fate, Three Inches of Blood, Anthrax, Overkill, Candlemass, Death, and more! Scream for your Roots!
PLAYLIST:
Judas Priest – "Exciter" from UNLEASHED IN THE EAST
Iron Maiden – "Invaders" from THE NUMBER OF THE BEAST
Savatage – "Sirens" from SIRENS
Mercyful Fate – "At The Sound Of The Demon Bell" from MELISSA
Jag Panzer- "Harder Than Steel" from AMPLE DESTRUCTION
Sanctuary – "Veil Of Disguise" from REFUGE DENIED
Candlemass – "At The Gallows End" from NIGHTFALL
Anthrax – "Lone Justice" from SPREADING THE DISEASE
Toxik – "Shotgun Logic" from THINK THIS
Agent Steel – "Agents of Steel" from SKEPTICS APOCALYPSE
Nitro – "Freight Train" from O.F.R.
Three Inches of Blood – "Deadly Sinners" from ADVANCE AND VANQUISH
Overkill – "Wish You Were Dead" from THE ELECTRIC AGE
Nevermore – "Born" from from THIS GODLESS ENDEAVOR
Death – "Painkiller" from THE SOUND OF PERSEVERANCE
Bloody Roots is Sound of the Beast author (and Bazillion Points publisher) Ian Christe's heavy metal history show on Sirius XM Liquid Metal channel 40. Since June 2004, each weekly show has examined another subgenre, band, movement, country, or theme in metal, punk, and heavy rock. The show is available on-demand online from SiriusXM.com.