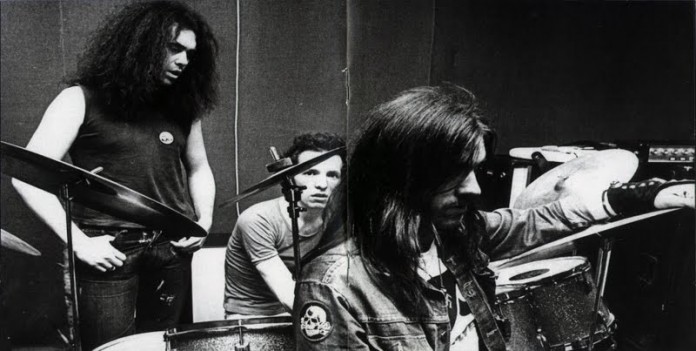 Chew on this strap of dried leather: today is the 40th anniversary of Motörhead's first-ever gig, July 20, 1975, opening for Greenslade at the Chalkfarm Roundhouse in London.
This is the band's original lineup of Lemmy, drummer Lucas Fox, and ex-Pink Fairies guitarist Larry Wallis.
Of course the above recording is lousy—it's a miracle that anyone cared enough to press RECORD on their portable tape contraption.
Hooray for an institution!
We published a book about Motörhead worshippers in the San Francisco area in the early 1980s. Check out MURDER IN THE FRONT ROW: Shots From the Bay Area Thrash Metal Epicenter, by Harald Oimoen and Brian Lew.