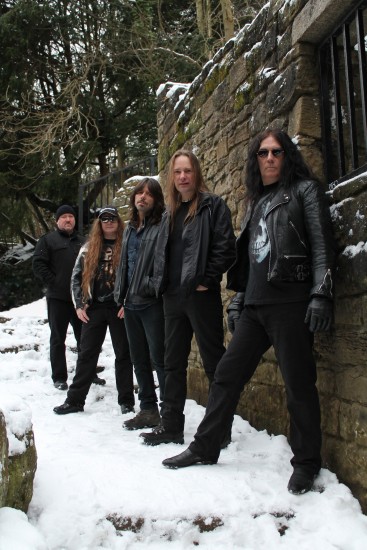 SiriusXM Bloody Roots of NWOBHM Veterans in the 2010s
Week of July 25, 2015
Sat 7/25, 6PM ET
Sun 7/26, 1PM ET
Mon 7/27, 9AM ET
Tues 7/28, 4PM ET
Thurs 7/30, 9PM ET
At the dawn of the 1980s, a bustling cabal of DIY British metal bands combined the energy of punk and the bombast of heavy metal, saving metallic music under the banner of the New Wave of British of Heavy Metal, or NWOBHM. Thirty years later, many of those young lions remain active elders in the heavy music scene. Join host Ian Christe ("Sound of the Beast", Bazillion Points Books) for a recap of very recent releases by founding fathers like Saxon, Venom, Angel Witch, Satan, Raven, Iron Maiden, and more! Know your Roots!
PLAYLIST:
HELL – "Plague and Fyre" from HUMAN REMAINS
SAXON – "Sacrifice" from SACRIFICE
VENOM – "Hammerhead" from FALLEN ANGELS
SAVAGE – "The Rage Within" from SONS OF MALICE
RAVEN – "Breaking You Down" from WALK THROUGH FIRE
ANGEL WITCH – "Dead Sea Scrolls" from AS ABOVE, SO BELOW
SATAN – "Time to Die" from LIFE SENTENCE
PAGAN ALTAR – "Dance of the Vampires" from NEVER QUITE DEAD
DIAMOND HEAD – "Skin on skin" from WHAT'S IN YOUR HEAD
TANK – Phoenix Rising" from WAR MACHINE
IRON MAIDEN – "El Dorado" from THE FINAL FRONTIER
Bloody Roots is Sound of the Beast author (and Bazillion Points publisher) Ian Christe's heavy metal history show on Sirius XM Liquid Metal channel 40. Since June 2004, each weekly show has examined another subgenre, band, movement, country, or theme. The show is available on-demand online from SiriusXM.com.