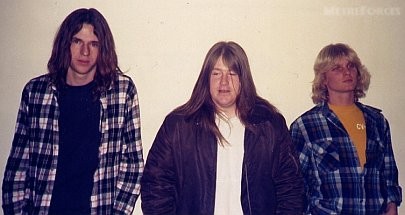 Autopsy, 27 years ago

Chris Reifert has had his gnarled paw stuck into death metal since the beginning, playing with Death, Autopsy, and Abscess. As a cherished elder, he has kept the flame burning in recent years by writing inspiring forewords to Daniel Ekeroth's SWEDISH DEATH METAL and Jon Kristiansen's METALION: The Slayer Mag Diaries. His encouragement has fueled every wave of Swedish death metal since the start, and—who knows?—maybe Ekeroth's book even helped to resurrect Autopsy, who had been dormant for 15 years prior to their 2009 reformation.
Autopsy have a handful of dates announced for 2015:
October 10:  California Death Fest, Oakland Metro, Oakland, CA
October 23-24: Reggie's Rock Club, Chicago, IL
November 13-15 (TBA): Housecore Horror Festival, San Antonio, TX
Meanwhile, Reifert has just launched his Autopsy-meets-Ramones group Violation Wound, featuring guest appearances by Autopsy guitarists Danny Coralles and Eric Cutler. Check it out:
Violation Wound - Don't Believe It
Adding another notch to his tombstone, Reifert's Mummified Jalapeño Bacon Bombs remains the most beloved recipe in HELLBENT FOR COOKING. Bring some to an Autopsy show and make friends until death… and beyond!