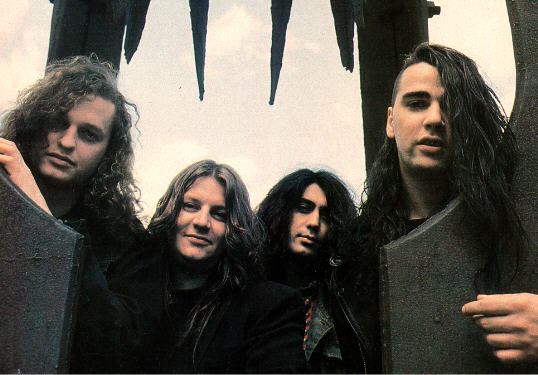 BLOODY ROOTS OF QUEBEC METAL
Week of August 8, 2015
Sat 8/8, 6PM ET
Sun 8/9, 1PM ET
Mon 8/10, 9AM ET
Tues 8/11, 4PM ET
Thurs 8/13, 9PM ET
For this week's heavy metal history lesson, Ian Christe ("Sound of the Beast"/Bazillion Points) travels up the St. Lawrence River to trap the wild and rare breeds of metal raised in French-speaking Quebec. Cultural heritage, isolation, and extreme weather have raised a uniquely powerful metal heritage, hear for yourself with tracks by Voivod, Martyr, Kataklysm, Cryptopsy, Death Dealer, Obliveon, Despised Icon, D.B.C., Gorguts, and more! Savez vos Roots!
PLAYLIST:
MARTYR – "Lost in Sanity" from FEEDING THE ABSCESS
DEATH DEALER – "Cross My Way" from METAL MASSACRE IV
SWORD – "FTW" from METALIZED
VOOR – "Evil Metal" from VOOR
VOIVOD – "Ripping Headaches" from RRROOOAAARRR
CAPITALIST ALIENATION "Double Talk" from MAKES ME SHIT
SOOTHSAYER – "Free Violence" from HAVE A GOOD TIME
D.B.C. – "Monument" from DEAD BRAIN CELLS
GORGUTS – "The Erosion of Sanity" from THE EROSION OF SANITY
KATAKLYSM – "Sorcery" from SORCERY
OBLIVEON – "Fiction of Veracity" from FROM THIS DAY FORWARD
CRYPTOPSY – "Graves of the Fathers" from NONE SO VILE
DESPISED ICON – "Furtive Monologue" from THE ILLS OF MODERN MAN
VOIVOD – "Kluskap O' Kom" from TARGET EARTH
Bloody Roots is Sound of the Beast author (and Bazillion Points publisher) Ian Christe's heavy metal history show on Sirius XM Liquid Metal channel 40. Since June 2004, each weekly show has examined another subgenre, band, movement, country, or theme. The show is available on-demand online from SiriusXM.com.