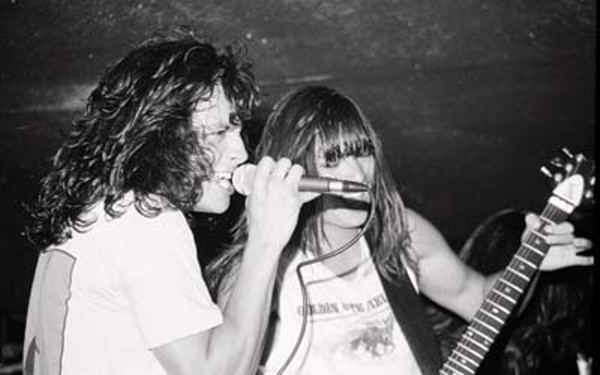 BLOODY ROOTS OF TEENAGE METAL TITANS on Sirius XM
Week of August 15, 2015
Sat 8/15, 6PM ET
Sun 8/16, 1PM ET
Mon 8/17, 9AM ET
Tues 8/18, 4PM ET
Thurs 8/20, 9PM ET
Please think of the children!!! This week, host Ian Christe ("Sound of the Beast"/Bazillion Points) tackles the titanic teen terrors who changed the course of hard rock, heavy metal, thrash, death metal, black metal, and more. Check out tracks from the teenage years of Possessed, Nihilist, Dust, Metallica, Cro Mags, Emperor, Death Angel, Decapitated, plus current-day youngsters Unlocking the Truth, Heene Boyz, and Babymetal. Grow your Roots!
For hundreds of photos from the teen years of Metallica, Death Angel, and other thrash metal pioneers, check out MURDER IN THE FRONT ROW: Shots From the Bay Area Thrash Metal Epicenter, by Harald Oimoen and Brian Lew.
PLAYLIST:
DEATH ANGEL – "Kill As One" from THE ULTRAVIOLENCE 1987
DUST – "Love Me Hard" from DUST 1971
METALLICA – "Phantom Lord" from NO LIFE TIL LEATHER 1982
ANTHRAX – "Soldiers of Metal" from FISTFUL OF METAL 1983
DEF LEPPARD – "Good Morning Freedom" from HELLO AMERICA 1980
CRO MAGS – "We Gotta Know" from AGE OF QUARREL 1986
POSSESSED – "Swing of the Axe" from METAL MASSACRE 6 1985
NIHILIST – "Supposed to Rot" from DEMO 1988
SEPULTURA – "Troops of Doom" from MORBID VISIONS 1986
EMPEROR – "Inno A Satana" from IN THE NIGHTSIDE ECLIPSE ROUGH MIX 1993
DEATHKIDS – "Forgotten" from BORN IN HELL 1995
DECAPITATED – "Winds of Creation" from WINDS OF CREATION 2000
UNLOCKING THE TRUTH – "Unknown" from LIVE 2013
HEENE BOYZ – "Time and Space" from FINGER IT OUT 2014
Bloody Roots is Sound of the Beast author (and Bazillion Points publisher) Ian Christe's heavy metal history show on Sirius XM Liquid Metal channel 40. Since June 2004, each weekly show has examined another subgenre, band, movement, country, or theme. The show is available on-demand online from SiriusXM.com.