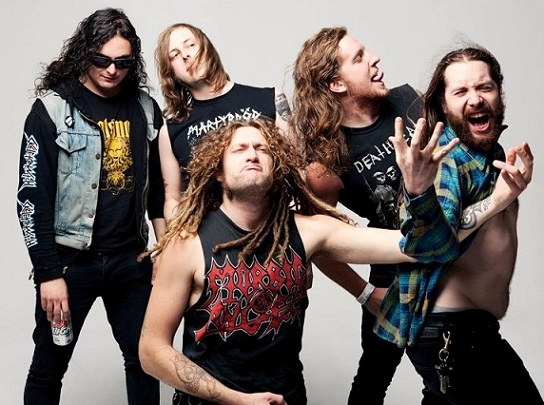 BLOODY ROOTS FALL 2015 FALL METAL PREVIEW SHOW
Week of August 22, 2015
Sat 8/22, 6PM ET
Sun 8/23, 1PM ET
Mon 8/24, 9AM ET
Tues 8/25, 4PM ET
Thurs 8/27, 9PM ET
Gazing into a crystal ball to determine what the weeks and months ahead hold for heavy metal, Ian Christe ("Sound of the Beast"/Bazillion Points) forecasts the fall season with brand new music by Ghost, Slayer, My Dying Bride, Hate Eternal, Ramming Speed, Pentagram, Deafheaven, Myrkur, and more. Know your Roots !
PLAYLIST:
GHOST – "From the Pinnacle to the Pit" from MELIORA
SLAYER – "Repentless" from REPENTLESS
RAMMING SPEED – "No Forgiveness in Death" from NO EPITAPHS
DEAFHEAVEN – "Brought to the Water" from NEW BERMUDA
MYRKUR – "Haevnen" from M
MY DYING BRIDE – "And My Father Left Forever" from FEEL THE MISERY
IRON MAIDEN – "Speed of Light" from THE BOOK OF SOULS
PENTAGRAM – "Walk Alone" from CURIOUS VOLUME
GENTLEMANS PISTOLS – "The Searcher" from HUSTLER'S ROW
HATE ETERNAL – "The Stygian Deep" from INFERNUS
MOTORHEAD – "Thunder & Lightning" from BAD MAGIC
Bloody Roots is Sound of the Beast author (and Bazillion Points publisher) Ian Christe's heavy metal history show on Sirius XM Liquid Metal channel 40. Since June 2004, each weekly show has examined another subgenre, band, movement, country, or theme. The show is available on-demand online from SiriusXM.com.